Fans Give Megan Thee Stallion's New Madame Tussauds Wax Figures the Seal of Approval
The wax figures will be displayed in New York and Las Vegas.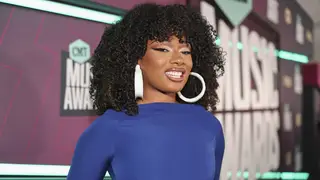 Fans had difficulty spotting the real Megan Thee Stallion over the weekend after the "Plan B" rapper shared a photo of herself alongside a pair of Madame Tussauds wax figures made in her image wearing two of her signature looks.
The museum will have one of Megan's wax figures, which features her wearing the newsprint catsuit and matching cowboy hat inspired by the photo shoot from her 2020 album, Good News, displayed at their Las Vegas location. The art piece went public on Saturday, May 20.
On June 1, the other figure, this time of the "Cry Baby" emcee wearing a donated diamante bikini and matching cowboy hat, gauntlets, and choker, will unveil at the Time Square location in New York City.
The 28-year-old commemorated the moment by taking to social media, where she wrote, "I honestly wanted to kiss myself," alongside a photo of herself standing with the 10-foot stallion wax figure.
​​Madame Tussauds has grown a reputation amongst online critics for not consistently delivering convincing celebrity replicas. However, many people online appeared quite impressed with the organization's latest presentation, including City Girl's JT, who reacted to Megan's post, writing, "I couldn't tell which one was you! Both perfect dolls." Another fan declared, "They have never done a more realistic wax figure than the ones they did of you."
Still, wax figures aren't the thing the Hot Girl Coach has in store for her hotties. In an interview with Entertainment Tonight  at the 2023 Academy Awards, Megan told reporters that she is currently working on a new album.