Report: Jim Jones' New Jersey Mansion Foreclosed And Auctioned Off For $100
Sources claim Jones defaulted on the $680,000 mortgage in 2006.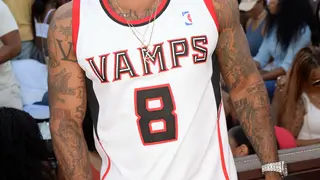 Jim Jones has reportedly lost one of his homes to foreclosure, and it's being sold on the market. Sources further claim that the Harlem rapper has been entangled in a nest bed of legal issues with his New Jersey mansion dating to the mid-2000s — and now it may have cost him big time, according to the court documents obtained by BOSSIP.
Jones reportedly took out a $680,000 mortgage with a 6.875% interest rate for the home in 2006 under the agreement that he would make monthly payments of $4,467. However, Jones quit making payments on the mortgage in 2010. The U.S. National Bank Association then sued the rapper in 2017 for allegedly neglecting to make payments on the loan for seven years straight.

It seems like Jones had straightened things out financially after both parties reached an agreement to settle the debt last year. In said agreement, Jones would reportedly pay off the remaining debt instead of letting the house fall into foreclosure. 

According to the site, the rapper did not hold up his side of the agreement and the judge put the rapper in default. Under the terms of the mortgage, Jones is now required to pay its entire amount. The house was reportedly sold back to the bank in a Sheriff's Sale earlier this year for a low figure of $100. The five-bedroom, three-bathroom home's value is estimated to be $742,000. 

In addition, Jones reportedly still owes the bank $1,240,017. That includes the unpaid interest, real estate taxes, advances and homeowners insurance expenses.

Jones and his team have not yet commented on the report as it stands.