Man Pleads Guilty To Robbing NYC Pastor Lamor Whitehead During Livestream
Pollack is accused of stealing more than $1 million in jewelry from Whitehead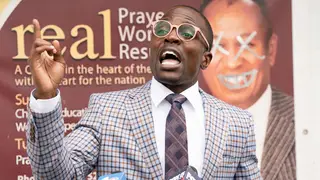 A man pleaded guilty to robbing Bishop Lamor Whitehead during a livestream church service in New York City, local news website
Say-Quan Pollack, 25, pleaded guilty on Tuesday (Nov. 14) in federal court in downtown Brooklyn to a robbery charge for stealing jewelry from Whitehead as he preached a sermon from the pulpit of Leaders of Tomorrow International Ministries in a video that went viral last year. His sentence is expected to be handed down in the next few months.
At the hearing that lasted an hour and a half, Pollack admitted that he participated in the robbery.
"I participated in a robbery," he said after pleading guilty. "I took another person's property with a threat."
Speaking to reporters following the hearing, Whitehead said that Pollack should receive the maximum sentence from the court.
"These guys came into a house of worship, a house of worship, with guns, right? It don't get no worse than that," Whitehead said. "The church is still traumatized … I was laying on the floor, and I was looking at these guys with a gun in my 8-month-old daughter's face."
On Sept. 26, Pollack backed out of a plea deal which caused the judge to issue a warning about his actions.
 "This is real life. We are not playing around here. You want to go to trial, we'll see you at trial."
The charge of federal armed robbery carries a maximum 20-year sentence, but because of his plea deal, he can appeal the ruling if the sentencing goes higher than 7¼ years.
Although Whitehead wants Pollack to be prosecuted to the fullest extent of the law, he is facing legal troubles of his own. In December 2022, was arrested and charged with fraud, extortion, and lying to federal authorities. According to federal prosecutors in Manhattan, Whitehead "solicited money from victims, including a retired parishioner, through threats or false promises of enriching them, then kept the money for himself."
Whitehead has denied all allegations.