Howard University Celebrates Alum Chadwick Boseman's Life
Boseman gave a moving commencement speech at Howard University in 2018.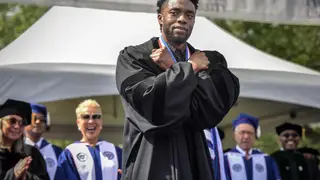 Following the unexpected death of actor Chadwick Boseman on August 28 after a four-year battle with colon cancer, his impactful presence has left his friends, fans and family saddened by his passing.
As a Howard University alumnus and 2018 commencement speaker for the HBCU, the Bison community shared their thoughts on one of their very own on August 29.
"Boseman was a man of grace and humility. A deep thinker who had a deep passion for writing and uplifting his people. A staunch supporter of social justice, he did not shy away from using his voice in service to those without one," said Wayne A.I. Frederick, Howard University President in an official statement. "We now know he was in a fight for his life yet continued creating magic for all of us without missing a beat.  He lived a full life by the magnitude of his example."
During Boseman's famed commencement speech during the school's 150th anniversary he touched on the early stages of his acting career and reminisced on his time at Howard, leaving graduates with this message:
"Boseman reminds us that the quality of life is not measured in time, but rather it is measured in how well we live it and what we prioritized," Frederick concluded in his statement. "The characters he portrayed will be celebrated but his greatest gift to us was himself. Rest in Power, Chadwick!"