Wife Of Warriors Owner Leans Over Beyonce To Talk To Jay-Z, Sending The Beyhive Into Get Becky Mode
Nicole Curran's IG comments were swarmed with bees after she posted a pic of herself touching the "Homecoming" superstar.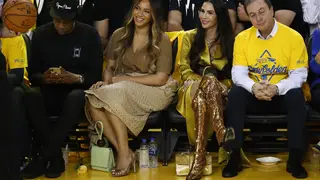 Even though Drake was not present for Game 3 of the NBA Finals, there was no shortage of courtside drama at the Oracle Arena in Oakland.
Although Nicole was friendly with both music stars, she seemed more focused on chatting with Jay-Z, even if it meant she had to lean over Beyonce to strike up a conversation.
A video of Nicole hunched over Beyonce quickly went viral, as fans thought the "Homecoming" singer looked "annoyed."
It took no time at all for the Beyhive to come after Nicole on Twitter and criticize her for going through great lengths to speak with Jay.

After the game, Nicole posted a picture to Instagram of herself touching Beyonce. Although it's not clear exactly what she's doing in the photo, it appears Nicole was either adjusting Beyonce's clothes or her hair.

"We should all help and support each other," she captioned the photo.

Either way, Nicole's photo and interaction with Jay-Z was enough for her comment section to get swarmed by bees. By the next morning, Nicole had disabled her comments on Instagram. 

In response to the bee overload in her comments, Nicole responded by telling everyone, "I'm a happily married woman."

Meanwhile, some people on Twitter couldn't help but point out how Beyonce and Jay-Z were in a similar situation in 2014 with Jake Gyllenhaal.