Shaquille O'Neal's Son On Pre-Draft Workout With The Lakers And His Father, 'He Didn't Want Me To Do This'
Shareef O'Neal is his own man.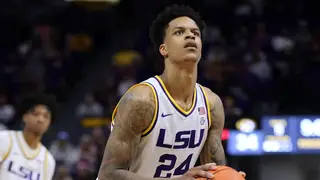 When Shareef O'Neal reported to the Los Angeles Lakers practice facility on Tuesday (June 21) for a pre-draft workout, he was missing a blessing from a surprising person.
During a press conference, the 22-year-old baller revealed that his famous dad, 2016 NBA Hall of Famer Shaquille O'Neal, disapproved of his decision to attend the session. The elder O'Neal wished for his son to finish his education.
"We kind of bump heads about this process," Shareef disclosed during the press conference. "He wanted me to stay in school. I wanted to better myself through this. He knows I'm working out with teams. But I'm not going to lie. We ain't talked about this. I'm kind of just going through it. He didn't do any pre-draft workouts; he just got straight on the [Orlando Magic], so it's a different grind.
The 22-year-old college athlete continued, "So, he didn't want me to do this, and I know he probably doesn't want me saying this, but sorry. We're both grown. We'll get past it."
Although Shareef is, technically, following in his father's footsteps, the 215-pound, 6'10" power forward stood firm that he is carving out his own path.
"I'm a grown man, I'm 22 years old, I can make my own decisions. It was right in front of my face. I'm not backing up from it. I'm going to go get it if I see it. That's just how I'm built. I take everything the same way. I took my heart surgery the same way. Being cleared was right in front of me, being healthy was right in front of me, and I went for it. I'm not backing down from nobody. I know he's an NBA legend. I know he's my dad, but it was right in front of me. I had to go get it. So, if he likes it or not, it's not really going to stop me from doing what I want to do."
About being compared to his legendary father, Shareef explained there was no comparison because their situations are different.
"I feel like me and him have a whole different story now," he responded when asked if he felt pressure being Shaquille's son. "I went through some things that he didn't go through. He was the No. 1 pick in the draft. I kind of had to grind to get here. I had to grind a lot. I had to go through some stuff these past four years — foot injuries, heart surgeries — and I don't really look to be in his shadow."
The younger O'Neal also attends Shaquille's alma mater Louisiana State University (LSU), and he mentioned that he didn't feel he necessarily got enough playing time.
"I felt like in college I wasn't getting enough opportunity. I wasn't feeling like myself in college. [The invite] kind of opened a lot of doors for me. I feel like it really brought me back and kind of showed a little bit what I can do."
On average, Shareef averaged 2.6 points on almost 41% from the floor vs. his dad's average score of 21.6 and a 61% shooting average.
Shaquille's son walks to the beat of his own drum. We wish him the best.