"Flavor Of Love's" Hottie Now Has Her Own Cooking Show All About Chicken
She's come a long way since her infamous microwave chicken!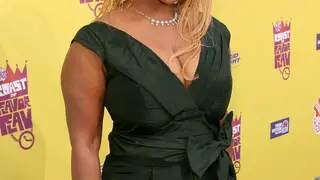 Here's some '00s nostalgia for you: Schatar Sapphira Collier, aka Hottie from season one of VH1's Flavor of Love, is back with a brand new show. It's actually her very own cooking show, Poultry Princess, currently on Amazon Prime.
If your memory of Flavor of Love serves you correctly then you might be a bit confused since Hottie is most memorable as the contestant who attempted to cook a whole chicken in the microwave on the show. It was for one of Flavor Flav's challenges, and let's just say it was a fail.
Check out the clip of the infamous microwaved chicken here:
So how did Hottie score this new gig? Well, apparently she's learned a lot about throwing down in the kitchen since then, especially when it comes to chicken. On the show she and guests cook up chicken teriyaki and sesame ginger chicken, and even a couple veggie friendly dishes like crispy green beans, and a vegan Matzo ball soup. 
Just take a look at this mouth-watering paprika chicken and roasted potatoes she prepared:
Hottie had this to say of the microwaved chicken incident back in 2017, "I was raised as a vegetarian and I'd never prepared, let alone touched, a raw chicken before. I like winning, so when I realized that a fried chicken challenge was one that I'd never done before, I decided to go at it another way altogether. Keeping ratings in mind, I threw some jelly on it, some mushrooms, lo mein noodles, marshmallows for eyes and a raisin smile. Then, I threw it in the microwave. It was the No. 1 episode for the year!"
Now she's the star and producer of her own chef show! It's a classic tale of 'started from the bottom, now we here'. 
Watch a clip from Poultry Princess here: