Black Men Have Lowest Melanoma Survival Rate, Study Shows
The report revealed that Black men have a survival rate of 52% after attracting melanoma.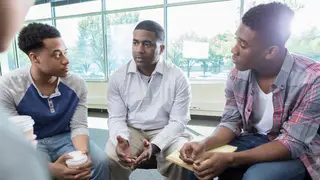 A recent study revealed that Black men have the lowest survival rate after contracting melanoma than any other group, CBS News reports.
Additionally, the study found that men of color had higher rates of attracting melanoma at advanced stages which causes difficulties in treatment options. Black people's mortality risk was still higher than their white counterpoints even when factors like insurance coverage and income are similar.
Dr. Alix Charles, chairman of dermatology at Duly Health and Care explained that the inequities in health insurance are a major contributing factor to the disparities in life expectancy for Black men.
"Unfortunately Black Americans are less likely to carry private insurance," Charles said. "They're less likely to be able to have access to quality healthcare in their neighborhoods and in their communities."
Dr. Ashley Wysong, a co-author of the study and noted dermatologist, said that men, especially Black men, have lower survival rates for several reasons such as genetic composition.
"We know that men may be less likely to seek medical care than women, so they can be diagnosed with melanoma at later stages," said Wysong, who's also the founding chair of the Department of Dermatology at the University of Nebraska Medical Center. "However, even after accounting for later stages at diagnosis, men still have worse overall survival rates than women with melanoma, so we suspect that there are some unmeasured social, genetic, tumor-specific, and potentially biological factors at play, such as hormones and the way the immune system responds to melanoma tumors."
"We hope our research can lay the foundation for future studies to determine why there's such a gap in survival rates, and to make headway to reduce these survival rate gaps," Wysong added.
To reduce the risk of melanoma, the American Academy of Dermatology recommends wearing sun-protective clothing, sunscreen, and observing sudden changes to your skin.
"The thing that's unique about skin cancer — it's so common, but it's also so preventable," said Dr. Elizabeth Hale, senior vice president of the Skin Cancer Foundation and associate professor of dermatology at NYU Langone.
Almost 90 percent of skin cancers are directly connected to exposure to the sun.
"We recommend a broad spectrum SPF 30 or higher, and it's important to think about sunscreen every single day. It's not just enough when going to the beach or pool because we know that some damage is cumulative," Hale continued. "When you're outside, you want to reapply every two hours — even more if you're sweating or swimming. Getting people to wear it every day is the real goal."