Review: Lisa Lampanelli at Harlem's Apollo Theater
The Queen of Mean tones down African-American jokes for the legendary stage.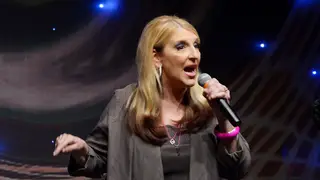 Lisa Lampanelli is known for politically incorrect comedy that drops jaws and delivers laughs. The slimmed-down comedian, who recently lost over 100 pounds, is an equal opportunity offender and boldly takes jabs at every group. However, the Queen of Mean appeared to tone down her African-American jokes for the legendary Apollo Theater in Harlem. Let's be clear though: Lampanelli's version of "toned down" is still wildly crude, which is exactly what her audience wants.
In most reviews for comedy shows, there are a few jokes that would be quoted. Not for a Lampanelli review. Packed full of profanity and vaginal references, Lisa isn't quotable. But the Harvard graduate (yes, Harvard!) shot ferocious daggers at Flavor Flav, Chris Brown, Rihanna and everyone on her season of Celebrity Apprentice. Her most offensive humor was geared to the LGBT community — many of whom were proudly in the audience and loved it.  
Lisa is known for her vicious comedy, but seeing a full show versus a Comedy Central Roast, Lampanelli is not as offensive as she is portrayed by her critics. She is obviously commentating on the absurdities of race, sexuality, gender and class. The comedian creatively unravels stereotypes, pulls back the creepy layers, turns the mirror on the audience and rages, "Now do you how see how stupid these stereotypes are?" 
Her best moment of the night was when an audience member was obnoxiously loud, she stopped the show and hollered, "Stop it!  Shut up — seriously! Do not ruin the f****** night for people who paid a lot of money. Just calm the f*** down. I see people shooting you looks and some of them are Black! Let me tell you something, they're very dangerous people." She turns to one of the Black men in the first few rows, "Am I right? Tyrone, if he gets out of line, pull out your piece and start shooting this m**********!" In reality, Lisa's style of humor is not far removed from Chris Rock's witty, politically and racially charged comedy...well, minus vagina, AIDS, handicapped and oral sex jokes.
Cypher Sound from Hot 97 helped open the show, definitely appealing to the Black and Latinos in the audience, and the crowd ate it up. Lampanelli on the other hand, had a few digs for the Black audience members, but she was clearly restrained (again, Lisa's version of restrain is still shocking!). Maybe she was respecting the Apollo stage (not likely), but she didn't talk about her former love of Black men nor did she dare drop the N-word. Not that anyone wanted to hear the N-word, but considering it was her first time at the Apollo, one would think she would dive deep into the racial humor that made her famous. Did Lampanelli not have the balls to go hard in Harlem? Say it to our face, Lisa. We can take a joke. 
BET.com is your #1 source for Black celebrity news, photos, exclusive videos and all the latest in the world of hip hop and R&B music.

Click here to subscribe to our newsletter.
(Photo: Michael Loccisano/Getty Images)