Zoe Kravitz: Jaden Smith Has "So Much Swag"
The star opens up to V mag about acting and her new flick.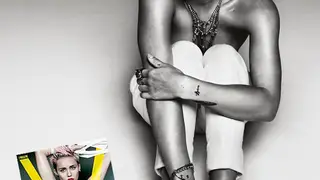 (Photo: Philippe Vogelenzang / V Magazine, June 2013)
Zoe Kravtiz is looking stunning and doe-eyed in V magazine wearing pants from Alexander Wang, whom she considers a good friend, and a necklace from her Zoe Kravitz for Swarovski collection. With parents like musician Lenny Kravitz and actress Lisa Bonet, Kravitz has been tackling music, jewelry design and now diving into Hollywood. This summer, she'll appear alongside Will Smith and his son, Jaden, in the M. Night Shyamalan flick After Earth, and apparently she found herself slightly smitten by the younger Smith.
"There were moments that I was hanging out with Jaden and thinking, I can't believe you're 14, I have to check myself, like what I say to you," the 24-year-old actress says. "He has so much personality and so much swag, he is so much cooler than I am. And he's so handsome, I was always like, when you're older, you know, we'll hang out…Nope, that's inappropriate, you're 14."
Kravitz also shared her mom's feelings about her delving into the industry.
"My mom's whole thing was that she wanted me to wait until I knew what I really wanted. She'd always say, 'Once you step into the spotlight, you can't take it back.'"
And with another big budget film on the horizon, it looks like Kravitz is marching full speed ahead and leaving anonymity behind.
Get ready for the BET Experience, featuring Beyoncé, Snoop Lion, Erykah Badu, Kendrick Lamar and many more. Go here for more details and info on how to buy tickets. 
BET.com always gives you the latest fashion and beauty trends, tips and news. We are committed to bringing you the best of Black lifestyle and celebrity culture.
Click here to subscribe to our newsletter.