COVID-19 Has Delayed 'Black Panther 2' For A Second Time
The omicron outbreak in the Atlanta set is the cause.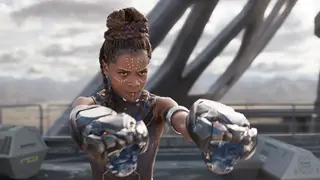 Black Panther: Wakanda Forever has been delayed yet again.
The second installment in the history-making Marvel Cinematic Universe franchise was pushed back due to a surge of the omicron COVID-19 variant on the Atlanta set, Screen Rant reports. This marks the third such instance of the production taking a hit in just a year.
The article goes on to say that several cast and crew members, including Lupita Nyong'o, have tested positive for the virus since filming kicked back up last week, however, they're only expected to be delayed a week before getting back underway.
The Black Panther sequel has seen its fair share of drama and setbacks since debuting in 2018. From Chadwick Boseman — who played T'Challa — passing from colon cancer in 2020 to on-set injuries with Letitia Wright to the effects of COVID impacting filming back in June of last year, it has been a rough go at getting the box office blockbuster through production.
Screen Rant also reports that the film only has four weeks left of shooting and is currently set to hit theaters on November 11.