The Game Tells Teyana Taylor That She's Appreciated On Instagram
The singer previously revealed she wanted to leave the music industry.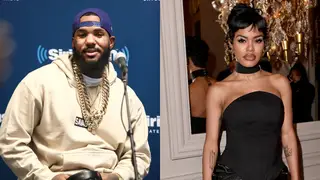 The Game has come to Teyana Taylor's aid after the singer announced that she was considering retiring from music.
In a lengthy Instagram post, the rapper reflected on when Taylor came into the industry and becoming  aware of her talent. 
"The 1st time I heard you sing, I knew what you were & I remember how bad you wanted the world to hear your voice," he wrote. "You were writing day in & day out. In studio every single day trying to perfect your craft."
The Game continued to trek through her career briefly to indicate just how talented and far that she has come. "Live in your glory & never be detoured by the minds of those weakened by this watered down era of appreciation," he wrote. 
"You know I know 1st hand about being the underdog as the odds have been stacked against me my entire career, but we didn't get where we are by things going exactly the way they would," he continued. 
He wrapped up his message by telling her that she's important to  the music industry. "YOUR GIFT IS SO APPRECIATED & as your big bro I want you to know, you are truly one of the best artist/people inside & outside of music I've ever known," he wrote. 
He wrote this post to her after Taylor went on Instagram with a post recently that seemingly suggested that she was leaving the music industry. 
"I ain't gone front in times of feeling super under-appreciated as a artist, receiving little to no real push from the 'machine,' constantly getting the shorter end of the stick, being overlooked … I'm retiring this chapter of my story with the comfort that I can depart with peace of mind seeing that all the hard work & passion put in was indeed loved & supported somewhere in the world!"
Check out The Game's post to Taylor up above.