Lori Harvey Reveals How She Achieved Her Rock-Solid Abs For The 2022 MET Gala!
See the model's red carpet moment that has fans begging for her fitness secrets!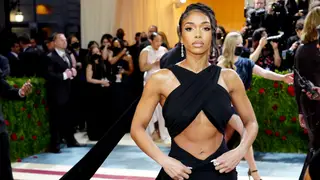 Lori Harvey did not disappoint when she made her grand debut at the 2022 MET Gala on Monday (May 2). The model clearly understood the assignment when she walked onto the red carpet in a sexy Michael Kors cutout gown that highlighted her rock-solid abs.
Quickly, the internet began to flood with questions about how she achieved her impressive abs. According to the star, Pilates workouts were key to achieving her impressive obliques! 
"It's Pilates. Pilates, it changed my life," she shared on the red carpet.
FYI: Pilates is well known to help build "core muscles" in the body,  particularly of your abdominal muscles, lower back, hips and buttocks.
Excuse us as we sign up for the next available class. We are trying to get all the way together this summer!