'Basketball Wives' Star Jackie Christie Takes Feud With Daughter to a Disgusting Level
You won't believe how bad it's gotten.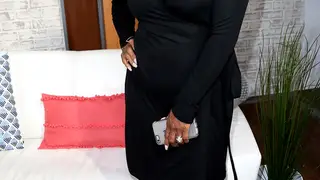 Basketball Wives LA star Jackie Christie is being slammed on social media after a GoFundMe page set up by her estranged daughter, whom she allegedly refuses to acknowledge, went viral. The reason for the page has many disgusted and ready to wash their hands of the reality star.
According to The Shade Room, it's been known for some time that Jackie and her oldest daughter, TaKari, don't communicate, while the reality star constantly celebrates her relationship with her other daughter, Chantel.
In the past, TaKari has spoken out on the reason she believes her mother refuses to acknowledge her, saying she dislikes her because she is darker skinned and heavier in weight than Chantel. Also, in season two of the VH1 reality show, Chantel admitted that Jackie would make her watch TaKari run on the treadmill when they were kids.
Recently, TaKari set up the GoFundMe page for her son after he suffered burns from an accident that occurred at his daycare. She only needs $3,000 to cover his medical expenses, but many are infuriated that she had to go to such lengths to get these funds when her mother is worth more than enough to help her out.
TaKari also posted to Facebook that she didn't know her mother and retired NBA player Doug Christie remarried — for the 20th time — in Portugal, as she wasn't invited. The ceremony aired on the latest episode of Basketball Wives, with Jackie's other two children present.
On a more positive note, TaKari has already raised more than $2,330 from supporters.
Watch former Basketball Wives star Draya Michele talk about life since leaving the show, in the BET video, above.