University of Liberia Entrance Exam Failed By All Students
All students who took this year's admission exam at the University of Liberia failed, reportedly due to poor English skills.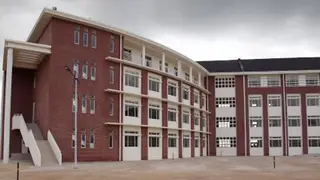 What's a first day at university without the freshmen?
The University of Liberia is about to find out after almost 25,000 test takers failed the school's admissions exam.
A university official told the BBC that the students did not have a basic understanding of English and lacked enthusiasm.
"I know there are a lot of weaknesses in the schools but for a whole group of people to take exams, and every single one of them to fail, I have my doubts about that," said the country's Education Minister Etmonia David-Tarpeh.
President Ellen Johnson Sirleaf, a Nobel peace laureate, recently acknowledged that the education system was still "in a mess," and much needed to be done to improve it.
Many schools lack basic education materials, and teachers are poorly qualified, reports the BBC's Jonathan Paye-Layleh from the capital, Monrovia.
However, this is the first time that every single student who wrote the exam for a fee of $25 (£16) has failed, our reporter says.
Read the full story here.
BET Global News - Your source for Black news from around the world, including international politics, health and human rights, the latest celebrity news and more. Click here to subscribe to our newsletter.
(Photo: Courtesy University of Liberia)