U.S. Olympic Fencer Curtis McDowald Suspended After Misconduct Allegations
According to the terms of the suspension, he is barred from any USA Fencing-sanctioned event.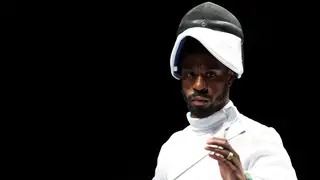 After allegations of misconduct, American fencer Curtis McDowald has been temporarily suspended from competition, USA Today reports.
McDowald, who competed at the Tokyo Olympics in 2021, was notified of his suspension on Friday (Nov.3) by the U.S. Center for SafeSport but no additional information was revealed about the details of the misconduct.
According to the terms of McDowald's suspension, he is not allowed to attend any USA Fencing-sanctioned event, club, meeting, facility, or education session.
In a statement, USA Fencing responded to McDowald's suspension.
"Once we became aware of the allegations, we immediately informed the U.S. Center for SafeSport, who exercised their ability to take jurisdictional control of the case and upheld our temporary measures'' related to the suspension, USA Fencing said in a statement. "We take the safety and integrity of our sport seriously and will cooperate fully with the inquiry while maintaining the confidentiality of the involved parties. We also encourage anyone who has been harmed in sport to come forward, and we will support them to the fullest extent of our abilities.''
McDowald's suspension is just the latest incident that he's involved in. At the Pan American Senior Championships in Peru in June 2021, he reportedly kicked through a free-standing banner and also slapped an opponent who attempted to shake his hand, causing the USA men's épée team to be disqualified from the rest of the competition.
Bryan Wendell, Director of Communications for USA Fencing that during the Pan American Games in Chile, McDowald was required to stay in a separate hotel away from the Athlete Village due to an unrelated prior incident.