Report: Blac Chyna Is Pregnant By Her 18-Year-Old Bae, YBN Almighty Jay
Twitter is going nuts over this.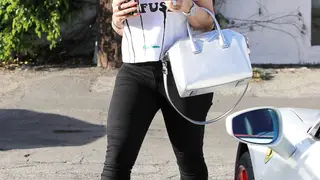 If new reports are proven to be true, Blac Chyna is gearing up to welcome her first child with her 12th grade-aged boyfriend, YBN Almighty Jay.
According to The Sun, things have gotten pretty serious between the former stripper and the amateur "rapper," forcing them to be in it for the long haul as they have a baby on the way.
While the two have not been dating for long, it is reported that YBN, 18, has formed a close bond with her two children from previous relationships — the jokes really do write themselves here, so we'll leave that there.
This will stand as Chyna's third child, if the reports hold any truth. She currently shares a baby girl, Dream, with Rob Kardashian, and a toddler boy, King Kairo, with rapper Tyga.
Needless to say, Twitter has been having a field day with this alleged news. See how they went in, below: