The 15 Best R&B/Hip Hop Albums of 2022
Through 365 days, these records stayed on repeat.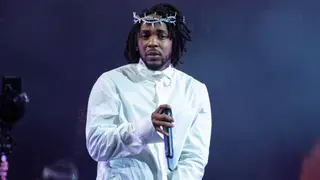 2022 has delivered some huge tentpole releases from some of the most recognizable names in the hip hop, hip pop, and R&B scenes. 
Between ramping up tours with top-tier artists and a resurgence of more dance music in the mainstream, the music industry has delivered a sense of normalcy following the past two years. 
And as we head into 2023, let's look into the albums that stood out the most in 2022 in no particular order.
Kendrick Lamar — Mr. Morale & The Big Steppers

Release Date: May 13, 2022 

Winning a Grammy and Pulitzer Prize for Damn further cemented Kendrick Lamar's legacy as the biggest mainstream emcee of the past two decades. Diving deeper into introspection, Mr. Morale & The Big Steppers features self-reflective tracks that tackle grieving, fatherhood, Black romantic relationship dynamics, homophobia, and more. 

And that doesn't even count the now Grammy-nominated deepfake-leaning music video for "The Heart Part 5" that kicked off the whole thing. Suffice it to say, K Dot was one of the most anticipated releases that paid off in a major way.

Freddie Gibbs — $oul $old $eparately

Release Date: September 30, 2022

Freddie Gibbs has evolved into one of Hip Hop's most fascinating personalities. When he's not working on collaborative projects with The Alchemist or Madlib, the Gary, Indiana native is stretching into serious acting roles. 

$oul $old $eparately adds to his legacy of quality releases with fascinating feature guests from Kelly Price and Anderson .Paak to Raekwon and DJ Paul. 

Despite the multitude of textures provided by Gibbs, the level of real cohesion is still there.

Megan The Stallion — Traumazine

Release Date: August 12, 2022

Output-wise, Megan The Stallion continues to be one of the most consistent stars in hip hop year by year. Following controversies that have seen her battle everything from labels, among other things, Traumazine still manages to live up to the Houston artist's "real hot girl" mentality. 

Past the bravado and trash talk of tracks like "Her" and "Budget" are more personal tracks like "Anxiety," which even lead to a clever mental health campaign.

Latto — 777

Release Date: March 25, 2022

"Big Energy" went from one of the biggest hits this year to into the stratosphere once Mariah Carey hopped on the remix. 

Then it's the TikTok variety of "It's Givin," produced by super-producer Mike Dean, FNZ, jetsonmade, and Pooh Beatz, it became another boss girl anthem. 

777 presents musically progressive moments for the Atlanta child-rapper turned full adult hitmaker due to tracks like the Donald Glover and Lil Wayne-assisted "Sunshine" alongside "Real One."

Drake & 21 Savage — Her Loss

Release Date: November 4, 2022

Following the polarizing international dance vibes of Honestly, Nevermind earlier this year, Drake returned with Atlanta rapper 21 Savage for Her Loss. 

Despite the controversies over various lyrics on tracks, including "Circo Loco" and "Middle of the Ocean," it didn't stop the album from debuting at no. 1 with a whopping 404,000 album-equivalent units sold.

Nas & Hitboy — King's Disease III

Release Date: November 11, 2022

Nas once proclaimed hip hop was dead a few decades ago, and he's shockingly been eating his words with the Grammy-winning run of his King's Disease collaborations with superproducer Hit-Boy. 

That doesn't even count last year's Magic. 

King's Disease III is another fantastic body of work that further adds to Nas' late-career resurgence past unnecessary arguments of his relevance.

Pusha T — It's Almost Dry

Release Date: April 22, 2022

Pusha T's Daytona was essentially the best project to come out of Kanye West's Wyoming era. The Grammy-nominated project pushed The Clipse member into a new mainstream consciousness as a solo artist. 

It's Almost Dry has Pusha T splitting production duties between West and Pharrell for some of his best music. It doesn't hurt that he has Jay-Z, Kid Cudi, and Lil Uzi Vert to lend a verse on the project.

Sampa The Great — As Above, So Below

Release Date: September 9, 2022 

Since releasing The Return in 2019, Zambian-born artist Sampa the Great has become one of the highest-profile MCs and songwriters out of Africa. 

As Above, So Below has Sampa stretching her creativity even further. One way is by incorporating elements of Zamrock, a popular psychedelic rock sound in Zambia during the 70s. 

Collaborating across the diaspora, the project features guest spots from Joey Bada$$ and Angélique Kidjo.

Lady Wray — Piece of Me

Release Date: January 28, 2022

Released at the top of the year, Lady Wray (formerly known as Nicole Wray) dropped the soulful Piece of Me as one of the best indie R&B albums this year. 

Produced by Sharon Jones & The Dap-Kings founders Leon Michels and Thomas Brenneck, the project works because of its blend of exceptional production and Wray's phenomenal vocals.

JID — The Forever Story

Release Date: August 26, 2022

Atlanta native and Dreamville emcee JID released one of the most versatile rap albums of the year with The Forever Story. 

This album's lyrical intricacy is unlike anything anyone will hear this year. Whether it's the trunk-rattling effects of "Surround Sound" featuring 21 Savage and Baby Tate or the smooth-sounding "Stars" with Yasiin Bay, The Forever Story gets denser about the life lived by Destin Choice Route with each listen.

Beyoncé — Act I: Renaissance

Release Date: July 29, 2022

The modern Queen of Pop returned and delivered one of the best mainstream dance-pop albums in a very long time. 

A departure from the buffet variety of 2016's Lemonade, Act I: Renaissance finds inspiration from House music and Black LGBTQ+ Ballroom culture. 

One of the most cohesive albums in Beyoncé's catalog, the only thing that's shockingly missing are the music videos.

No worries, with a whopping eight Grammy nods, we are sure that 2023 will find us cuffing new visuals and a world tour soon enough.

Steve Lacy — Gemini Thoughts

Release Date: July 15, 2022

Known for his work with The Internet, Steve Lacy has built a strong résumé with his songwriting credits, penning hits for everyone from Solange and Kendrick Lamar to Vampire Weekend. 

Following his breakout studio album debut Apollo XXI in 2019, this year saw Lacy break into the mainstream as a solo artist through the viral song "Bad Habit." 

Landing on his sophomore album Gemini Rights, the project further's the singer/producer/songwriter's knack for creating inventive hybrids of alternative R&B, rock, and other fusion-based genres. 

Although not a "new artist," this innovative journey Steve Lacy is taking us on made Gemini Rights one of the year's most cherished highlights.

Lizzo — Special

Release Date: July 15, 2022

There wasn't an album released this year as fun and off the wall as Lizzo's Special. 

When the singer/songwriter/multi-instrumentalist wasn't finding inspiration from classic hip hop (The Beastie Boys) for "Grrrls" or Houston's own Z-Ro on "I Love You Bitch," she's offering honest sensuality with "Naked" and dismissing negative naysayers on the titular track. 

Everything about Special is Lizzo's ability to match clever musical artistry and pure entertainment, making her nominations much-beloved by fans and audiophiles alike.

Tank and The Bangas — Red Balloon

Release Date:  May 13, 2022

New Orleans-based band Tank and The Bangas have come a long way from their breakout moment of winning the 2017 NPR Tiny Desk Contest. In addition to getting a Grammy nomination for Best New Artist, their third studio album Red Balloon, finds the group continuing to push their creativity forward while paying homage to their hometown. 

Tracks like "Big" featuring Big Freedia and the Trombone Shorty-assisted "Cafe Du Monde," should make eager listeners Second Line to and from wherever they are! 

Mary J. Blige — Good Morning Gorgeous

Release Date:  February 11, 2022

The Queen of Hip Hop Soul proves that she still has it in spades through her fourteenth studio album, Good Morning Gorgeous. 

Mary J. Blige continues to provide challenging vocal performances for normal-throated artists half her age while pushing forward into the future with stellar features with Anderson .Paak, Dave East, and Fivio Foreign.

This album, currently nominated for six nominations at the 65th Grammy Awards, includes Album of the Year and Best R&B Album, which should stave off "R&B Is Dead" claims for another year.

Ural Garrett is a Los Angeles-based entertainment and tech writer documenting the intersections of pop and digital culture. Follow him at @UralG on Twitter.