Here's What It Was Like To Date R. Kelly, According To K. Michelle
"It's my obligation as a woman to tell the truth..."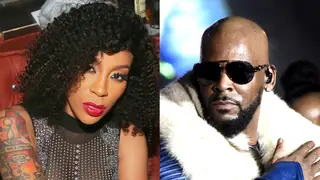 K. Michelle has never shied away from wearing her heart on her sleeve. The songstress has made a career out of singing about love and past relationships, the good and the bad. And on her 2014 single, "Build a Man," K. Michelle didn't hold anything back when it came to her previous relationship with R. Kelly. In a new interview with Billboard, the R&B singer elaborated on her track and addressed the recent allegations concerning Kelly's dark and personal life.
K. Michelle's exact relationship with R. Kelly is unclear. The singer often refers to him as her "mentor," although it appears as though there might have been a romantic side. On "Build a Man," K. Michelle called Kelly out by name, saying: "There was Kellz, he adored me / Loved to hear me sing but control me." While K. is hesitant to speak on her own experiences with Kelly, she does offer some opinions on his current allegations.  "I'm not surprised by them, I'm actually going to be speaking more about it because I do feel like it's my obligation as a woman to tell the truth and to do right by other females that are in the business and all these young women who don't have a voice," K. Michelle told Billboard.
The singer also suggested that she was disappointed with the treatment of Kelly's accusers. While she didn't go into more details about her feelings, she said that she's trying to find a way to publicly address the accusations.  "I can't speak on it. I do believe that in every piece of the story there's something that is true," she said. "It's just the right time and place to say things, to do it properly so that the people you're trying to help are actually helped instead of taunted so I'll be speaking more about it but I'll be doing it in the right way."
As previously reported, the Pied Piper is being accused of holding a number of women against their will in his guest homes in Chicago and Atlanta. He is alleged of abusing the women and controlling what they wear, when they sleep, and how they engage in sexual activity. We'll have to stay tuned on how K. Michelle formally addresses Kelly's situation in the future.