Miami NFT Week Announces Jam-Packed Conference For Crypto, DeFi, Blockchain, and Web3 Enthusiasts
Timbaland, Baron Davis, Yu-kai Chou, Swan Sit, and Laura Rodriguez are among the more than 250 expected featured speakers.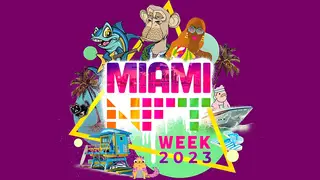 We have all heard of cryptocurrency. The volatile digital market has its pros and cons and highs and lows, but experts believe that the current "crypto winter" (representing the decrease in the prices of cryptocurrencies and a reduction in market capitalization) is almost over.
It makes this year's Miami NFT Week  (March 31st – April 2nd, 2023) the perfect kickoff event for Miami Tech Month.
"Now's the time that real people build," said Gianni D'Alerta, co-founder of Miami NFT Week, in a statement about the opportunities that can come out of a down market such as this. "Now's the time that the stars will start coming out and new ideas will start coming out. And then we may have another boom."
Along with D'Alerta, fellow co-founders Erik LaPaglia and Ted Lucas are organizing this event at the Mana Wynwood Convention Center. Lucas is a philanthropist and CEO of the legendary Miami hip-hop label, Slip 'N Slide Records.
The trio has planned a packed agenda featuring more than 250 experts covering NFTs, DeFi, and Blockchain technology through workshops, panels, pitch competitions, creative installations, immersive art, performances, and more.
There are some heavy hitters scheduled to take the stage who will focus on four main pillars: culture, the metaverse, enterprise, and Web3.
Miami's Mayor Francis Suarez, Grammy Award-winning producer, singer-songwriter Timbaland, two-time NBA star Baron Davis, CEO Lin Dai, financier Anthony Scaramucci, Web3 Creator Swan Sit, Decentral founder and Ethereum co-founder Anthony De lorio, Magdalena "Mags" Kala of Double Down, and The Miami Ape LLC co-founder Laura Rodriguez will all grace the stage during the conference, which is expected to draw in more than 5,000 attendees.
Digital content is the most significant use of NFTs today, and Black and brown people continue to grow in this space.
"Educating the younger generation on what's happening in the Web3 space will be valuable information for them to incorporate into their future careers. It'll be exciting to not only give them the opportunity to do so but also to network and ask questions with some of the speakers on the future of NFTs," said Lucas. The conference organizers gave out 100 tickets to the youth over at iTech and Turner Tech, as well as free passes to students at Florida Memorial University, Miami Dade College, and Florida International University.
The conference promises to bring in an even younger group of creators this year to bring new innovators into the space. Miami NFT Week is hosting a group from NFT Kids, featured in NFTKidsMagazine, the first-ever NFT publication for digital children and teen artists, founded by 13-year-old NFT artist and photographer Gemeidon. The kids, ranging in age from 7 to 15 years old, will have a booth at the conference to showcase their art, sign autographs, and bring a fresh perspective to the space.
There is also a concerted effort to get more Latin Americans into the crypto community. "My partners and I didn't see people from Latin America and the Caribbean—the people that we see everyday, that live here and visit here—included in other Web3 events," said D'Alerta. "Those people were not being represented. So we wanted to increase the Latin conversation because that's what Miami is."
In addition to the diverse panel topics and networking opportunities, Miami NFT will also host a buildathon. This year's contest, which is free to join, will provide an interactive environment where participants won't just hear about industry-leading tools, artists, and founders; they'll be able to interact and build alongside them. There will be more than $25,000 worth of prizes distributed to the winning teams.
"Miami NFT Week 2022 was my first introduction to a stage for crypto and Web3," said Laura Rodriguez, host and co-founder of The Miami Ape, to BusinessWire. The Miami Ape is a Web3 and consulting agency.
"As a young female, I was trying to understand the space and my place in all of it. Following my participation at the conference, I knew my passion was this new emerging world, and I started my company, The Miami Ape shortly after. Without Miami NFT Week 2022, I would've never taken the chance at speaking on so many stages around the country and world. A year later, I get to look back on the journey and stand up in front of everyone at Miami NFT Week 2023 as a speaker to share my story and hopefully inspire young women like me."
---