Black Unemployment Rate Rose in May
The unemployment rate for African-Americans rose from 9.6 percent to 10.2 percent in May.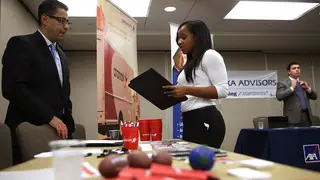 The latest figures released by the U.S. Department of Labor shows that the African-American unemployment rate increased to 10.2 percent in May from 9.6 percent in April. This remains double the national rate of unemployment in May which was 5.5 percent. 
There were 280,000 jobs added to the labor market in May and mostly in professional and business services, leisure and hospitality and health care industries. Wages also increased on average for workers, with payrolls adding .08 cents per hour last month. 
There is still concern over the number of state and local government jobs that have been lost in the past six years, especially post-recession, the Center for American Progress points out.
"Budget cuts have reduced the number of teachers, bus drivers, firefighters, and police officers, among others," said CAP economist Michael Madowitz in a statement. "This news is particularly troubling for communities of color, given that African-Americans are overrepresented in public sector jobs."
Follow Natelege Whaley on Twitter: @Natelege_
Click here for a chance to win a trip to the 2015 BET Awards!
BET National News - Keep up to date with breaking news stories from around the nation, including headlines from the hip hop and entertainment world.
(Photo: Justin Sullivan/Getty Images)