Taye Diggs Fears People Will See His Son as Black
The actor wants his child to embrace being "mixed."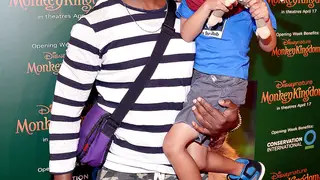 Taye Diggs is a proud Black man, but when it comes to his son Walker, he hopes the world will see him as biracial and not simply Black. While that sentiment may anger some out of context, Diggs fears that if society sees his son as Black, there will be "confusion" with his mother being white. Huh?
"When you [call biracial kids Black], you risk disrespecting that one half of who you are and that's my fear," he explains to Chris Witherspoon at theGrio.com. "I don't want my son to be in a situation where he calls himself Black and everyone thinks he has a Black mom and a Black dad, and then they see a white mother, they wonder, 'Oh, what's going on?'"
Well, OK. He goes on to use President Barack Obama as an example of misusing Black versus biracial. "As African-Americans, we were so quick to say OK 'he's Black, he's Black,' and then there were the white people who were afraid to say he was biracial because who knows," says Diggs. "Everybody refers to him as the first Black president. I'm not saying it's wrong, I'm just saying that it's interesting. It would be great if it didn't matter and that people could call him mixed. We're still choosing to make that decision, and that's when I think you get into some dangerous waters."
Diggs is so passionate about the topic that he wrote a children's book, Mixed Me, based on his son's experience as a biracial kid (his mother is singer Idina Menzel). The book is a follow up to his semi-autobiographical children's book Chocolate Me.
Click here to see Taye's full comments and watch the break down of the story above.
BET.com is your No. 1 source for Black celebrity news, photos, exclusive videos and all the latest in the world of hip hop and R&B music. 
(Photo: Charley Gallay/Getty Images for Disney)