Here's Every Time Mariah Carey Took Her Breakup 'Win' To Savage Levels
Mariah Carey's a diva even when it comes to breakups, darling!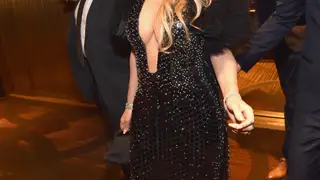 Never is there a moment when you see the 47-year-old singer sweat over a relationship, making it perfectly clear that she's not about to let anyone be a 'Heartbreaker' in her life.
Our point in case: If you follow the tabloids, you may have heard about the highly publicized split from her billionaire ex-fiancé James Packer back in October 2016.
Since then, Mariah's moved on and is living her best life jet-setting and socializing at the biggest parties. Oh yeah, she's serious about giving her exes something to ogle over!
Peep the receipts below of how Mimi makes the most of her breakups:
She's still flaunts her ring from ex, James Packer—even when she's on a date with on-again-off-again boyfriend, Bryan Tanaka.

Eat your heart out! She's serving lots of bawdy with sexy fashions to accentuate it!

Upgrade you! She got herself a new (and much younger) BF who constantly dotes on her.

Merry Mariah! She's still out here booking some of the biggest shows and collecting her coins.

She's a co-parenting pro with her twin's father, Nick Cannon.

Can we talk about how fashionable her revenge slay is?

She living her most luxe life yet, recently securing a 12,000 square foot mega-mansion in Beverly Hills.

She Could Be Making Drake...Or His Dad Her Next Target. Either way Champagne Papi is with it!

And she's still got those dollars darling—$520 million to be precise. She's winning!