Marsai Martin Shares A Health Update After Undergoing Surgery To Remove A Painful Ovarian Cyst
Before the surgery, the 18-year-old actress revealed she was in "constant pain" for over four years.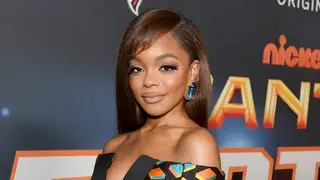 Marsai Martin is using her personal health experience to encourage others to pay attention to their bodies. Over the weekend, the actress revealed on social media that she recently underwent surgery to remove an ovarian cyst.
"If you missed my live, long story short, I had surgery for my large ovarian cyst that gave me constant pain for 4+ years," she shared via her Instagram Story on Saturday (Dec. 10), along with a black-and-white video from inside the hospital. "I really don't remember any of this sh*t because of the anesthesia, lol. But I will say that I am very grateful to have family and educators by my side in support of this process."
The 18-year-old went on to encourage other young women to pay close attention to their bodies and to be an advocate for their own health.
"The only reason I am sharing this is so I can hopefully spread awareness and share my experience to the young women out there that may be going through the same thing or have difficult menstrual cycles. You are never alone. Listen to your body. It always shows you signs. Health is wealth."
According to Mayo Clinic, ovarian cysts are actually common and are usually both painless and harmless. However, if ovarian cysts become "twisted or burst open (rupture)" it can cause the body to experience symptoms like pelvic pain, pressure or heaviness in your abdomen, and bloating.
Doctors highly suggest seeking medical help if you experience sudden, severe abdominal or pelvic pain. Also, look out for "pain with fever or vomiting and signs of shock. These include cold, clammy skin; rapid breathing; and lightheadedness or weakness."
On Sunday (Dec. 11), Martin took to Instagram with gratitude as she shared a positive health update with her fans. 
"Thank y'all for all the love," she wrote on a photo showing herself getting her makeup done. "The procedure was 10 days ago and I'm now feeling fine. I also appreciate the stories from folks that have been through the same thing! But I'm back and I'm betta."
We are glad to see that the Black-ish actress is not only feeling better but is also using her platform to encourage others to stay healthy!