Super Bowl Ads: Anything Could Happen
Did you know that companies shell out an estimated $4 million for a 30-second spot?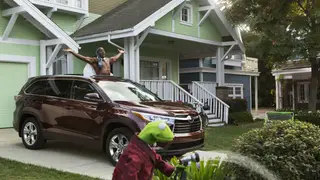 NEW YORK (AP) — Super Bowl advertisers are finally about to see their efforts play out on the industry's biggest stage Sunday night. But as they've learned in the past, anything can happen.
Companies including Coca-Cola, Mars and Nestle have spent the past several days trying to drum up hype for their big-money ads, in some cases by releasing teasers online. Anheuser-Busch InBev even hosted a viewing party aboard a cruise ship docked at a New York City pier, which was transformed into a floating "Bud Light Hotel," complete with escargot, duck and cheesecake on the menu.
Still, Super Bowl advertisers know the unexpected can happen. And when it does, they have to be ready.
One of the most memorable moments from last year's game, for example, was a tweet from Oreo. After a blackout hit the stadium, the company posted an image of an Oreo cloaked in darkness with the tagline "You can still dunk in the dark."
It got more than 10,000 retweets on Twitter within an hour.
The power of a traditional Super Bowl ad is nothing to sneeze at, of course, with companies shelling out an estimated $4 million for a 30-second spot. It's not just money on the line. More than 100 million people have tuned into the game in recent years, making it one of the most watched events in the country's TV history.
Even for companies that release their ads on YouTube early, though, nobody really knows how they'll go over during the game. Chrysler and Coca-Cola are among the companies keeping at least one of their spots under wraps too. And of course, anything can happen during the match between the Denver Broncos and Seattle Seahawks, or the halftime show starring Bruno Mars. Remember Janet Jackson's wardrobe malfunction?
Here's a peek at some highlights of tonight's Super Bowl ad action. Check back for updates throughout the night.
FIRST UNSCHEDULED TIME-OUT: CHEERIOS FAMILY ADDS A NEW MEMBER
If the faces in the Cheerios ad look familiar, there's a reason.
The biracial family was also featured in an ad that made headlines last year after it sparked ugly comments online. The remarks were subsequently eclipsed by an outpouring of support.
General Mills, which owns Cheerios, says it was looking to reflect the changing U.S. population when it cast the roles for the fictional family, made up of a black dad, a white mom and their daughter. In the new spot, the dad tells the little girl that she has baby brother on the way.
If the ad is popular enough, perhaps General Mills will keep following the family's story line for years to come. Just picture it: the little girl as a sullen teenager sitting at the breakfast table, refusing to talk to her exasperated parents. Fade to black as they eat their Cheerios in silence.
FIRST QUARTER: BUD LIGHT'S FEAR OF MISSING OUT
How important is the Super Bowl to Bud Light? The beer has three ads airing during the game.
In case that wasn't enough, it also has a massive party ship docked at a New York pier with the words "THE BUD LIGHT HOTEL" emblazoned on the side. The ship is on loan from Norwegian Cruise Lines and is serving as a base for more than 3,000 guests. After taking control of it earlier this week, Anheuser Busch slapped its Bud Light logo on just about everything in less than 24 hours, down to the tiny shampoo bottles in the cabins.
Even crew members' uniforms have Bud Light stitched onto the sleeves.
Tucked away in a room aboard the ship on Sunday will be Bud Light's "social command center," complete with giant flat screen TVs and computers to monitor whatever may be happening.
In case the 18-member team is second-guessing a tweet it dreams up, Anheuser Busch says its legal team will be on call for consultation.
SECOND QUARTER: STEPHEN COLBERT GETS CRACKIN'
Goodbye Psy, hello "freeberty."
Wonderful Pistachios is back for its second straight Super Bowl ad. This time, the 15-second spots will star funnyman Stephen Colbert, who's known for making up words such as "truthiness" and "freeberty" (presumably a mash-up of freedom and liberty, two of his favorite things). The ads launch a yearlong sponsorship deal featuring the tagline "Get Crackin', America."
Roll Global, which also owns Fiji Water and POM Wonderful juice, says its Super Bowl ad last year starring Korean pop singer Psy was a huge hit, with sales up 18 percent year over year.
Good for them, but some viewers are getting a little tired of that horsey dance.
New York City dwellers may have already noticed teasers for the ads starring Colbert playing on TV screens in the back of taxis over the past week.
SECOND HALF: BOB DYLAN VERSUS JOHN STAMOS
Chobani may feature a Bob Dylan song in its ad, but rival Oikos has Full House star John Stamos — better known as Uncle Jesse to fans of the sitcom.
In Chobani's big game debut, the tune of "I Want You" plays as an angry bear ransacks a country store for something good to eat.
Meanwhile, Dannon's Oikos ad shows Stamos sitting with a woman who seductively licks some stray yogurt from his finger, then his upper lip. The scene heats up when some yogurt falls on his lap — but the moment is ruined when fellow Full House stars Bob Saget and Dave Coulier interrupt with offer to clean it up.
For those who didn't watch Full House: the joke is that Saget's character was a clean freak. As daughter Michelle would say...How rude.
FOURTH QUARTER: SCARLETT JOHANSSON'S POLITCALLY CHARGED FIZZY WATER
Who knew seltzer could be so controversial?
SodaStream's ad starring the actress Scarlett Johansson has already gotten plenty of attention for the soda machine maker. The ad prompted the "Her" star cut ties with Oxfam International, which took issue with SodaStream's large factory in an Israeli West Bank settlement.
Meanwhile, Oxfam is planning to bring attention to another issue during the game: Pepsi's "land grabs" in countries such as Brazil and Cambodia, where it says the company's sugar suppliers have robbed farmers of their rights and kicked them off their land.
Oxfam says it has about 1,000 people signed up to tweet and post on Facebook during the game.
BET Sports News - Get the latest news and information about African-Americans in sports including weekly recaps, celebrity news and photos of your favorite Black athletes. Click here to subscribe to our newsletter.