This 'Love & Hip Hop: Atlanta' Star May Be Adding Another Mugshot To Her Extensive Collection
She reportedly got into a physical altercation at Lenox Mall.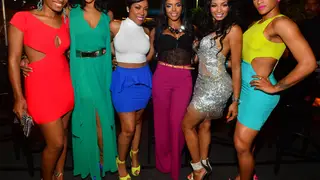 Some of the cast members of Love and Hip Hop: Atlanta, throughout the seasons, have had their fair share of run-ins with the law — some more than others — and it seems as one of the repeat-offenders is back to her old tricks.
According to TMZ, cast member Tommie Lee is currently under investigation after allegedly punching an employee in an upscale jewelry store at Atlanta's Lenox Square mall.
The police report indicates that the reality star and an "unknown man" visited Henri Bendel in the mall on February 1. Things took a turn for the worse when a nasty argument erupted between Tommie and an employee named Daniella. According to police, surveillance camera footage captured Tommie yelling at Daniella before proceeding to walk around the display case to "slap and punch her repeatedly."
Insiders at the store reported that Tommie became increasingly belligerent while she shopped, with Daniella ultimately deciding to confront her about her behavior. This, reportedly, was the moment that pushed the reality star to the edge, forcing the store managed to eventually break up the altercation. Both Tommie and her friend left the scene immediately after the fight was broken up.
That's not all — the police also mentioned that, according to the store manager's account, both Tommie and her male companion often visit the establishment and have even tried to steal items in the past.
Daniella told police that she suffered bruising on the left side of her face and eye and would like to proceed with pressing charges. She reportedly is also fully equipped with legal representation to sue Tommie.
Tommie is yet to comment on the reported altercation.