NBA Rookie Victor Wembanyana Speaks Out About His Security Detail Allegedly Assaulting Britney Spears
Spears claims that a member of Wembanyana's security team slapped her in the face as she tried to approach him.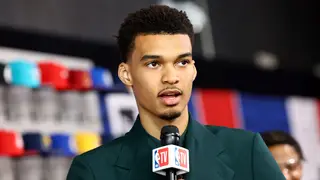 Ahead of his highly anticipated NBA debut on Friday (July 7), San Antonio Spurs' number one draft pick Victor Wembanyana found himself surrounded by a cloud of controversy after pop superstar Britney Spears accused one of the members of his security detail of slapping her.
According to CBS News, Wembanyama was walking to get dinner along with his security team and was told to not stop for anybody as his presence was sure to attract a crowd on Wednesday (July 5). Spears, who was at a restaurant in Las Vegas' ARIA Resort and Casino, saw him and began calling his name to congratulate him on his success. Wembanyama said he "heard someone calling him and then felt a person grabbing him from behind," but did not stop to see who it was.
"I couldn't stop. That person was calling me, 'sir, sir,' and that person grabbed me from behind," Wembanyama told reporters on Thursday (July 6). "I didn't see what happened because I was walking straight and didn't stop. That person grabbed me from behind, not on my shoulder, she grabbed me from behind.
"I didn't know for a couple hours, but when I came back to the hotel... I thought it was no big deal, and then security of the Spurs told me it was Britney Spears," he continued. "At first, I was like, 'You're joking,' but yeah, it turns out it was Britney Spears. I never saw her face. I just kept walking straight."
During the interaction, Wembanyama said his security team pushed the person away but he was unaware of how forceful the separation was.
Spears claimed that she did not grab Wembanyama's "simply tapped him on the shoulder" and that a member of his security "backhanded me in the face without looking back, in front of a crowd. Nearly knocking me down and causing my glasses off my face."
"This story is super embarrassing to share with the world but it's out there already. However, I think it's important to share this story and to urge people in the public eye to set an example and treat all people with respect," Spears wrote in a tweet.
"I have yet to get a public apology from the player, his security, or their organization," she continued. "I hope they will ..."
The Spurs have not publicly commented on the incident.
Following the incident, Spears filed a police report against Wembanyana's security team which was confirmed by the Las Vegas Metropolitan Police Department on Wednesday night and that there is an investigation going on.
"On July 5, 2023, at approximately 11 p.m., LVMPD officers responded to a property in the 3700 block of Las Vegas Boulevard regarding a battery investigation," a spokesperson from the police department said in a statement."The incident has been documented on a police report and no arrest or citations have been issued. No further details will be provided at this time."
Sam Asghari, Spears' husband wrote on his Instagram story that he is against any form of violence and believes that Wembanyana is not to blame for this unfortunate incident.
"The violent behavior of an out-of-control security guard should not cast a shadow on the accomplishment of a great young man on the rise," Asghari wrote.
Wembanyama will play his first NBA Summer League game as the Spurs face the Charlotte Hornets at the Thomas & Mack Center in Las Vegas.