Laila Ali Reminds Floyd Mayweather Her Dad's 'The Greatest'
Mike Tyson also offers scathing comments to undefeated champ.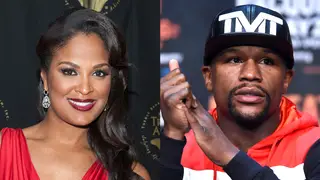 In promotion of this Saturday night's mega bout against Manny Pacquiao, Floyd Mayweather Jr. declared that he's the best boxer ever—even better than Muhammad Ali.
To further drive that point home, Laila Ali reinforced that just because "Money May" thinks he's "The Greatest," doesn't mean it's true.
"Look at the end of the day, there's nothing wrong with feeling that way about yourself as a fighter, but it doesn't make it true," Ali's daughter told TMZ Sports, before adding that she won't be in attendance at the MGM Grand Garden Arena on Saturday night for the Mayweather-Pacquiao fight. "He really feels that way and that's okay...you're supposed to feel that way about yourself."
She also used the short interview with TMZ to shoot down any rumors of her possibly taking on UFC women's champion Ronda Rousey.
And Laila isn't the only one defending her father's honor. Upon learning of Mayweather's claim, Mike Tyson called the undefeated champion "very delusional."
"If he was anywhere near that realm of great of Ali, he would be able to take his kid to school himself,' Tyson told the Undisputed Champion Network, as reported by TMZ Sports, referencing the 24-7 hefty security that seems to always follow Mayweather. "He can't take his kid to school himself. Greatness is not guarding yourself from the people, greatness is being accepted by the people."
BET Sports News - Get the latest news and information about African-Americans in sports including weekly recaps, celebrity news and photos of your favorite Black athletes. Click here to subscribe to our newsletter. 
(Photos from left: Marcus Ingram/Getty Images, Ethan Miller/Getty Images)