Top CEOs, Execs, And Other Business Leaders Combine Forces To Create 1M Jobs For Black America
OneTen is a newly formed non-profit that wants to change the way America hires its workforce over the next 10 years.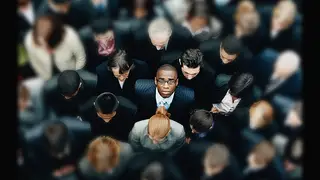 While most of the country is bracing for the effects of a second potentially devastating surge of the coronavirus pandemic, Black Americans are still feeling the instability brought on by the pandemic when it first hit at the top of the year. Economists are saying that, as of November 2020, a sluggish labor force and rise long-term unemployment have left more than one in 10 Black workers jobless. This, in conjunction with the exasperation felt by many African Americans still struggling with the realities of a racial injustice, has prompted a group of people to the forefront who want to be about change, not just talk about it.
Several top CEOs representing dozens of organizations and companies believe they have a plan to successfully secure millions of jobs for Black workers over the next 10 years. Today (Dec. 10), the resulting coalition — called OneTen — announced that it is committed to hiring and promoting one million Black workers into viable, long-term positions with opportunities to grow and advance, further strengthen their economic futures and that of their families. The strategy starts with connecting employers with outlets that specifically support the development of diverse talent who haven't graduated with a four-year degree.
OneTen is founded by five incomparable business leaders, including: Ken Chenault, Chairman and Managing Director of General Catalyst and former Chairman and CEO of American Express, Ken Frazier, Chairman and CEO of Merck, Charles Phillips, Managing Partner of Recognize, Chairman of the Black Economic Alliance and former CEO of Infor, Ginni Rometty, Executive Chairman and former CEO of IBM and Kevin Sharer, former Chairman and CEO of Amgen and former faculty member at Harvard Business School. They will all serve on the board while Frazier and Rometty serve as co-chairs. 
"This is a moment in time for Americans to move past our divisions to come together and reach our full potential as a nation. Our country's workforce of the future will be an increasingly diverse one," said Frazier in the official press statement. "Through the creation of one million jobs for Black Americans over the next 10 years, OneTen has the potential to address persistent inter-generational gaps in opportunity and wealth."
The mission of this coalition is not just to link Black workers with long-term employment, but to fundamentally transform the American labor force into one that is more inclusive and equitable. OneTen will forge partnerships with leading non-profits and other skill-credentialing organizations, to create a more balanced talent pipeline and promote practices that will allow employees and employers to succeed.
"OneTen links our companies with the critical work we know we need to do to improve racial equity in America," said Rometty in the press statement. "This will not only help our individual companies, but by removing structural barriers that have disproportionately hindered Black Americans from joining the middle-class, it will also help lift all Americans. By bringing together a coalition of key leaders and asking them to make long-term commitments, we have the ability to change employment practices and help break down systemic barriers opening the door to full participation in our economy."
OneTen launches in January 2021 with the following companies: Accenture, ADP, Allstate, American Express, Amgen, Aon, AT&T, Bain & Company, Bank of America, Cargill, Caterpillar, Cisco, Cleveland Clinic, Comcast, Deloitte, Delta Air Lines, Eli Lilly, General Motors, HP Inc., Humana, IBM, Illinois Tool Works, Intermountain Healthcare, Johnson & Johnson, Lowe's, Medtronic, Merck, Nike, Nordstrom, PepsiCo, Roper Technologies, Stryker, Target, Trane Technologies, Verizon, Walmart and Whirlpool Corporation