Apollo's New Bae Shades Phaedra Parks in Open Letter
Sherien Almufti had to add her two cents.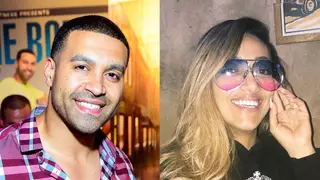 Apollo Nida's been trying to win a legal battle with his estranged wife in court while at the same time keeping a healthy relationship with his current fiancée — all while being behind bars.
Sherien Almufti isn't letting those troubles dampen her bond with Nida though. On Sunday (April 24) she penned a lovely tribute message to her fiancé and decided to take a slight shot at Phaedra in the process.
"My baby!! Miss you so much, praying for you daily," she captioned under a picture of the former Real Housewives of Atlanta star. "You have been misunderstood, judged and ridiculed but you never allowed it to bring you down. The strength you have gives me life. You're such an amazing person inside and out. One day the world will see that! In the meantime, stay prayed up, stay strong and keep pushing. Love you so much, can't wait for the day we reunite, it's going to be magical!!"
Late last year Apollo and Sherien announced their engagement. However, no wedding date has yet been revealed publicly. We've been covering the bitter legal dispute Phaedra Parks and Apollo Nida are going through. Most recently, Nida requested Parks pay his legal bills (which includes defense for his divorce proceedings) in full.
Check out Sherien Almufti's post about Apollo Nida below.