New Video Footage May Show That Ludacris' Manager, Chaka Zulu, Acted In Self-Defense
With the newly-obtained video, his attorney says it may clear him of all charges.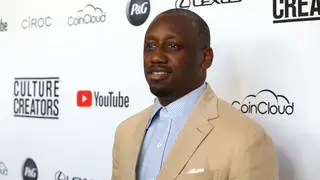 A new video has emerged that may put Ludacris' manager, Chaka Zulu, arrest in a different light.
TMZ recently obtained video footage that revealed Zulu was jumped outside his Apt4B restaurant prior to the shooting. An entourage of men reportedly pulled up to the Atlanta eatery, but the crew ended up leaving after an altercation happened inside. Zulu, born Ahmed Obafemi, had been conversing with someone outside when an argument ensued between him and Tre'mon Robinson. He was in the gang of men asked to leave the establishment.
The graphic video showed the group jumping Zulu, viciously beating him while he was on the ground and punching his female assistant in the face. After gathering his bearings and still being accosted by the group, he pulled out a gun and began shooting. Another man, Artez Benton, 23, was fatally wounded.
Corey Crawford appeared to retrieve a weapon before the mayhem ensued. Zulu shot Benton,  and he was shot in the back. The manager suffered extensive injuries and fought for his life while hospitalized. Zulu's attorney, Gabe Banks, argued that his client fired his weapon in self-defense.
BET.com reported that Zulu turned himself in to police and was charged with aggravated assault, firearm possession during the commission of a felony, and battery– among other charges.
Banks gave a statement regarding his client's indictment.
"Mr. Chaka Zulu, a beloved son of the City of Atlanta, is disappointed in the Atlanta Police Department's decision to bring charges against him surrounding the shooting that occurred in June 2022."
He continued, "A close review of all of the evidence, including the surveillance footage and eyewitness interviews, reveals that Mr. Zulu was attacked and jumped from behind by a gang of at least four (4) individuals (sadly including the decedent) and was forced to defend himself after this gang repeatedly stomped, punched, and kicked him while he was on the ground in a defenseless posture."
"Mr. Zulu was shot in the back during the shooting and nearly lost his life, and is still recovering from the nearly fatal injuries he sustained that evening. Mr. Zulu was at his place of business that night and had every right to defend himself. In an attempt to save his life, Mr. Zulu lawfully discharged his weapon in self-defense, a weapon that he is licensed to carry."