See How This Vlogger Literally Transformed Herself Into Drake With Makeup
Seriously, she looks just like the 6 God.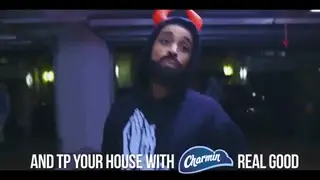 There's nothing we love more than a Halloween makeup transformation — except a celebrity-inspired makeup transformation.
If there was an award for "Best Halloween Makeover" vlogger Kandee Johnson would be a winner with a capital W. Her epic Drake look on her girl Lilly Singh almost had us fooled. 
Don't believe us? See for yourself below: 
The entire process from start to finish took roughly five plus hours (three for the face makeup alone!) and included "erasing" Lilly's eyebrows in order to redraw them.
We couldn't help but crack up when Lilly rapped, "Started as a woman, now we're here/Started as a woman, now my whole beard here," to get herself into character. 
Of course, she didn't let the insane look go to waste. Lilly shared a hilarious parody video of her trick-or-treating excursion with her 12 million YouTube followers as well. 
So did she nail it or nah?