6 Things To Know About 'Games People Play' Before The Premiere
Producer Tracey Edmonds gives an exclusive play-by-play on the basketball drama.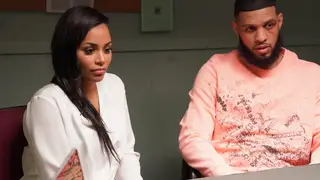 Hollywood powerhouse Tracey Edmonds knows all about games on and off the court. With a stellar track record of film and TV hits dating back to the classic Soul Food film and series, betting against her is a fool's errand. While her latest series, Games People Play, centers around a powerful basketball star named Marques King, don't ask her to make any NBA finals predictions. "I grew up being the child of a basketball coach," she says of her late father, George McQuarn. "My childhood was spent in basketball gyms watching my dad coach and have practice with his players. So basketball was a huge part of my life. I've slowed down a bit, but [fiance] Deion [Sanders] likes to watch."
Nevertheless, hoop dreams and nightmares fuel Games People Play, which features Sarunas Jackson and Lauren London as the starring royal couple. Think Basketball Wives on steroids.  BET.com caught up with Edmonds for a primer on the series before the premiere on Tuesday April 23.
The series is based on the book Games Divas Play by Angela Burt-Murray.  

This is actually the second project that Angela and I have done together. I adapted one of her other books called The Vow into a Lifetime TV movie. I read her book and it was a page turner. It was one of those juicy, guilty pleasures where there's so much drama going on and secrets. Games people are playing. I thought, these characters are great and we should really explore them more on the TV screen.

Lauren London and Sarunas Jackson play high-powered basketball couple Vanessa and Marques King.

You're always fortunate when you can cast actors who know about the world they're exploring character-wise. We were so lucky to get Sarunas to play Marques King because he was a baller in real life. We were fortunate enough to find a baller who could act and an actor who could ball. We really wanted Marques to really be able to play basketball, and he really understands the mind of a pro athlete and has lived that life already. He was able to tap into real life experiences and he has an arsenal of friends who are still playing pro ball. So anything he hasn't experienced, he can call them up. He's 6-foot-8, so talk about keeping it real.

And Lauren London was a true, true blessing. I've tracked her career for years. She's beautiful from the inside out and a joy to be working with. To have her play Vanessa King is really another bonus because Lauren has also lived that life. She's been in high-profile relationships and had her ups and downs — as have I — so we have compared quite a few life notes on things we've been through in our journey and things that we've seen. So when she plays Vanessa King, a wife who is facing challenges, Lauren has actually been through that in her life. I've had several chapters from my own personal life where I've been with high-profile men and gone through some of these experiences that we're exploring in our series. 

You know what. All of the characters are fantastic, but the one character that I just loved every time this character came on screen, I just never wanted his scenes to end, was our surprise character MJ. He is Nia's assistant, played by Kendall Kyndall. This is his acting debut. This is the first time he's been on TV and there is so much of his own personality in MJ. We let him do a lot of improv on the lines and making the scenes his own. He's a lot of fun to watch. But every single one of the characters has flavors and layers and secrets going on. And issues going on. They're all really juicy.

Hollywood veterans Vanessa Middleton and Theodore Witcher are among the talented writers on the team.

Both Vanessa and Ted Witcher have been long time friends of mine. Ted and I, we did Soul Food and Love Jones back-to-back. He released Love Jones first and I followed up with Soul Food, and we've been kind of staying in touch ever since then. I've been courting Ted for years to do a project with him. We've come close a couple times but haven't quite knocked it out the park like we did this time with Games People Play. I reached out to Ted and said, "Hey, I know you haven't done TV yet but we've got this show and I think you'd be amazing to join our writers room," and he ended up being one of our producers on the show. It's been incredible working with him. His perspective on relationships is like no other, which is why Love Jones was such a good movie. He's bringing that raw, real perspective to the storytelling on GPP. And Vanessa Middleton and I go way back. She's one of the most talented writers in the market now and her forte is very unique. She comes from a comedy background, so even when she's writing drama she has this organic sense of humor to a lot of the scenes. She pokes fun at real life things and does a great job at it. We have a suspense thriller with moments of humor, which I think is quite rare on TV.

Social media is more than a plot device.

Social media is such a humongous part of our lives these days. It's been amazing for me to see the evolution of social media even in the last four or five years. It's exploded now where a certain number of hours of our day is on it. The narcissism that develops from that, which we explore in the show, and the image that you have to uphold being on social media, sometimes it's all smoke and mirrors. You don't look the same in real life and you're not living the lifestyle that you prop up on social media. That's one of the themes in our show.

We're really looking at what price you pay for living the so-called perfect life and exploring all that glitters is not gold. We're examining what goes on behind the scenes with a power couple that is living a so-called perfect life in public and going home and dealing with the challenges, drama, infidelity issues and just all kinds of drama.

A lot of times when we're sitting at home and we're feeling bad about our lives and we're watching TV or looking at social media and we see these people living the high life, it's not what you think. There is a price that you have to pay. Think twice before you wish to have someone else's life, because a lot of times it's not always what it seems to be.