To The Left: Tamar Braxton Finally Reveals Why She Fired Vince As Her Manager
The couple's marriage isn't the only thing that didn't work out.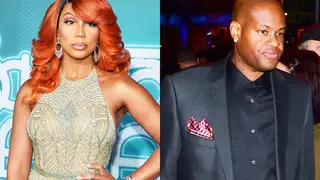 Tamar Braxton has been slowly detailing the dysfunctional moments leading up to her filing for divorce from estranged husband, Vincent Herbert, in their WEtv reality series, Tamar & Vince. In the upcoming episode, airing tonight, the singer shed more light on why she chose to ditch him as her manager.
Recap the moment Tamar filed for divorce with BET Breaks, above.
In an exclusive sneak peek from tonight's episode of the series, the "My Man" songstress can be seen talking to her wardrobe stylist and hairstylist about her relationship woes with Herbert before dropping the bomb that she has decided to let him go as her manager.
"I feel like I have to make an executive decision and keep it movin'," she told her hairstylist in the clip.
In the confessional clip, expounding on her choice to move on, she revealed that she needed that part of her life "to change" before adding that she was confident that this decision was needed in order for their marriage to work.
"I'm just going to tell him that this is what it is and if you want to be a part [of it], then you'll be a part and if you don't want to be a part then you'll be successful without me," she added.
This episode of Tamar & Vince airs tonight, December 14, at 9:00 p.m. on WEtv.