Ariana DeBose Makes History With A Win As Best Supporting Actress
The 'West Side Story' star is the first Afro-Latina, openly queer actress of color to win an Oscar.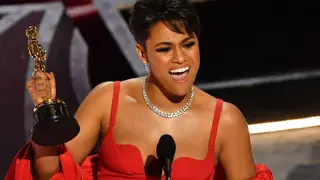 Ariana DeBose sang, danced, and acted her way into winning the Oscar for Best Supporting Actress for her role as Anita in West Side Story. She is the first Afro-Latina and openly queer actress to win in the category.
In a tearful acceptance speech, DeBose thanked Rita Moreno, who starred in both 1961 and 2021 film adaptations of West Side Story. She also thanked her family for their support, especially her mom who was in the audience.
In her remarks, DeBose voiced support for anyone who has had their identity questioned.
"Imagine this little girl in the back seat of a white Ford Focus. Look into my eyes, an openly queer woman of color and Afro-Latina who found her strength in life through art. That's what we're here to celebrate," she said. "Anyone who has ever questioned your identity, you find yourself living in the tray spaces, I promise you this: there is indeed a place for us."
DeBose beat out fellow nominees Aunjanue Ellis, who co-starred in King Richard, Jessie Buckley, Judi Dench and Kirsten Dunst.
Earlier this month, Debose won Best Supporting Actress for her West Side Story performance at the British Academy of Film Awards.
"This means so much to me," Debose said. 
"It's not every day that you get to bring to life a character using all these disciplines," she added.