NFL Players React to Obama's Opinions on Football
President Obama said if he had a son he'd think twice about allowing him to play football.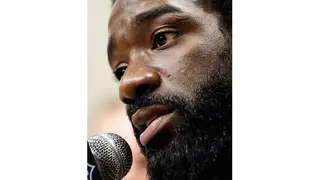 Baltimore Ravens safety Ed Reed. (Photo: AP Photo/Patrick Semansky)
NEW ORLEANS (AP) — Baltimore Ravens linebacker Terrell Suggs respects and understands President Barack Obama's opinion about the dangers of football — and hesitation about having a child play.
The hard-hitting 2011 Defensive Player of the Year also says that no matter how violent the sport, his 4-year-old son will be allowed to take it up if he wants.
"It would have to be his choice," Suggs said Monday. "Football isn't for everybody. If my son ... came to me and said, 'Dad, I want to play football,' then I would let him play."
The president's thoughts about the future of the NFL — and whether he'd let a son play football — were a main topic of conversation as Super Bowl week got under way. So much so that when San Francisco 49ers offensive lineman Alex Boone stepped away from his interview session, he asked someone, "What's up with all this Obama (stuff)?"
Here's what's up: In an interview with The New Republic, the newly inaugurated president expressed what many other parents might be thinking following new studies about concussions and recent suicides by former NFL players.
"I'm a big football fan, but I have to tell you, if I had a son, I'd have to think long and hard before I let him play football," Obama said.
"I think that those of us who love the sport are going to have to wrestle with the fact that it will probably change gradually to try to reduce some of the violence," he added. "In some cases, that may make it a little bit less exciting, but it will be a whole lot better for the players, and those of us who are fans maybe won't have to examine our consciences quite as much."
Ravens safety Ed Reed, for one, agreed with the sentiment.
"I am with Obama," Reed said. "I have a son. I am not forcing football on my son. If he wants to play it ... I can't make decisions for him. All I can do is say, 'Son, I played it so you don't have to.'"
Reed, a nine-time Pro Bowl selection in his 11 NFL seasons, thinks there needs to be improvements within the league.
"We've got some leaks in it that need to be worked out," Reed said. "Every medical training room should be upgraded; training rooms can be a lot better."
And as he noted: "When you've got the president talking about it, you got something."
Reed isn't sure everyone is being trained properly or cared for adequately.
"I felt like I played the game as safe as possible," he said. "I even tell the guys that they have to take care of their bodies, take care of themselves. If you take care of that, it will take care of you."
Researchers at the National Institutes of Health announced recently that Junior Seau — the star linebacker who died of a self-inflicted gunshot last year — had a degenerative brain disease often linked to repeated blows to the head.
Seau is one of several dozen football players who were found to have chronic traumatic ecephalopathy, or CTE.
The NFL is facing lawsuits brought by thousands of former players who say the league withheld information on the harmful effects of concussions.
Players who were asked Monday about Obama's comments tended to side with Ravens center Matt Birk, who did not hesitate before saying: "I have three sons, and once they get to a certain age, if they want to play football, I would let them."
San Francisco's Boone doesn't see how there is a lot of room for the game itself to change.
"There's going to be injuries and there's going to be problems," Boone said, "but we're working on trying to prevent them."
His coach, Jim Harbaugh, responded to the president's remarks in a lighter vein. Harbaugh, who played quarterback in the NFL for 14 seasons, mentioned his own child.
"Well, I have a 4-month-old — almost, soon-to-be 5-month-old — son, Jack Harbaugh, and if President Obama feels that way, then (there will) be a little less competition for Jack Harbaugh when he gets older," San Francisco's coach said with a chuckle. "That's the first thing that jumps into my mind, if other parents are thinking that way."

BET Sports News - Get the latest news and information about African-Americans in sports including weekly recaps, celebrity news and photos of your favorite Black athletes. Click here to subscribe to our newsletter.