OK, Girl: Mo'Nique Responds To Backlash Over Defending Racist Roseanne By Explaining Exactly Why She Did It
She won't give up on this.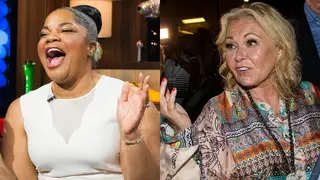 Mo'Nique recently surprised many after she publicly came forward in defense of Roseanne Barr, who went on a racist tirade against former President Obama aide Valerie Jarrett.
Now, after noticing the heavy backlash she has received since her endorsement of the notorious racist, the comedienne has resorted to social media to explain exactly why she stands by the disgraced actress.
The Blackbird star was dragged for filth across social media after she urged the public not to turn its back on her "sister in comedy."
"My sister made a mistake and she said something I know she wishes she could take back," she told KTLA. "But what I would ask is we don't throw her away."
After her words rubbed several of those who took offense to Barr's repeatedly racist ways the wrong way, she was bombarded with comments questioning her sanity and judgment. This motivated her to take to Twitter to address a fan who said she "prays she sees the truth about Roseanne."
Her response: "See when there was no cameras rolling and it was just me and that sister. She shared some things with me as a sister. I can't forget that conversation. And thanks for loving me even when we disagree. REAL SISTERHOOD."
That wasn't all. She told another disappointed fan that we should not be so hasty to "toss people out." "How does that help us in sisterhood?" she asked.