Offset Opens Up About His Gifting Plan For Cardi B's 30th Birthday!
Last year, the rapper surprised his wifey with a luxe mega-mansion in the Dominican Republic.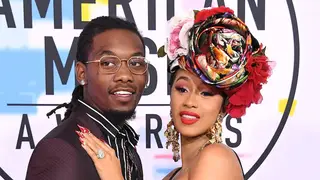 Offset never misses the mark in celebration of Cardi B's birthday! Last year alone, the CODE rapper dropped millions on a luxe mega-mansion in the Dominican Republic to surprise his wife on her big day.
So, what does Offset plan to gift Cardi for her 30th birthday on Oct. 11? According to the entertainer, something she "deserves."
"These are the hard times," he jokingly told E! News, admitting it has been increasingly difficult to find the perfect gift. "First off, she has everything. Second off, she doesn't want anything. Third off, I'm gonna get her something because she deserves it. It's getting harder and harder."
With the countdown to his BAE's big milestone, Offset put a lot of thought into his next gift and hopes it will be something Cardi will always remember.
"I'm trying to move her towards gifts—that's why I bought her a home last year because they mean more or last more and it's a great investment," he explained. "Made a lot of money from the houses we've got now, and it's like, I'm trying to stay at that angle."
ICYMI: Last night, the couple celebrated their 5th wedding anniversary with a lovely candlelit dinner. "You did THAT," Cardi happily told her husband as they partook in the romantic evening. The proud wife added, "Thank you, babe. I love you!"
At this time, it is unknown what Offset intends to give his wife for her birthday this year. Whatever it is, we are confident Cardi will love it!