Here's Why the Game Wants to Fight Meek Mill
"When you see me n***a, square up," Game states.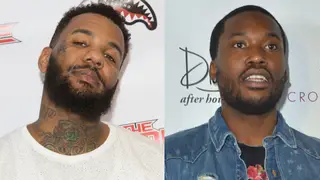 "I just wanna beat that n***a ass for a good time," he says. "When you see me n***a, square up. It don't gotta be about no guns, n***a. F**k Meek Mill." It's uncertain as to what started the beef. Game did debut a new song called "I Never Heard of That", which contains the line, "Meek Mill not snitching on me, I never heard of that." Maybe that has to do with it.
Regardless, the Philly rapper hasn't officially responded. In an Instagram post surfacing shortly afterward, he posted a pic with the caption, "We ain't rapping fan handle ya biz……… I love this s**t lol." Hmmm.
Game recently collaborated with Drake, so it's a fact whose side he's on in that bout. Check out what Game had to say about Meek Mill below.