Travis Scott Pulled Up To McDonalds For Meal Launch And It Was Pure Chaos
The Astroworld rapper's takeover of the fast food chain commenced yesterday.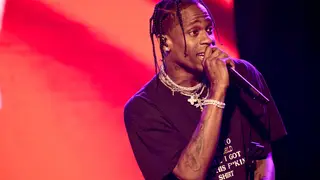 After months of rumors and speculation online, Travis Scott's takeover of McDonald's chain commenced earlier this week and the rapper is going all out to promote his new meal.
As of Tuesday (September 8), the Travis Scott meal is officially available at Mickey Ds across the country until October 4. Scott surprised some lucky fans by pulling up to the oldest McDonald's location in Downey, California to celebrate the launch of his collaboration with the fast food chain yesterday. Videos from the event surfaced on social media— and it was pure chaos. People quickly mobbed the rapper, who copped a red McDonald's T-shirt from a bystander with the promise to return the clothing later. 

"Ain't nothing but vibes," Scott said into the camera as he approached fans waiting in line. Of course, pandemonium ensued once the fans noticed him. The crowd quickly swarmed the rapper, who captured the whole experience on Instagram Live. His security detail could be heard repeatedly shouting at people to "back up" as they swarmed Scott. Even Scott had to warn fans to "slow down" amid the chaotic frenzy.  

"Yo IG, we gotta go. I'mma call you back," he said into the camera before shouting "It's lit!" Later, when he was leaving the premises in a red sports car, Scott's car was surrounded by fans trying to get a glimpse of the rap star.

Complex has already nabbed a screenshot of someone trying to resell a meal for a cool $1,500 on eBay.

Meanwhile, memes and reactions are already abound on social media in response to Travis Scott's takeover of McDonald's.  See how the Twitterverse is reacting to the collab below.