City National Bank Settles Racial Bias Complaint In L.A. County Home Loans
Federal prosecutors accused the bank of redling in majority-Black and Latino neighborhoods.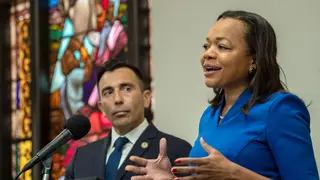 Federal prosecutors reached a $31 million settlement with City National Bank for alleged redlining in Los Angeles County, the U.S. Department of Justice announced Thursday (Jan. 12).
"This settlement is historic, marking the largest settlement ever secured by the Justice Department against a bank engaged in unlawful redlining," said Assistant Attorney General Kristen Clarke of the Justice Department's Civil Rights Division.
Redlining is the discriminatory practice of systematically preventing people from buying homes in certain areas, based on their race, ethnicity or religion. The Bank has denied breaking racial discrimination laws in the predominantly Black or Latino sections of the county.
The Los Angeles Times reports that the government's case centered on the bank allegedly avoiding loans to homebuyers in communities of color. City National's relationship managers focused their home loan application efforts on White customers – generating far fewer applications from Black or Latino customers. By comparison, other banks serving L.A. County received more than six times as many applications in the majority-minority neighborhoods.
Under the settlement, which a court must approve, City National will invest at least $29.5 million in a loan subsidy fund for residents of majority-Black and Hispanic neighborhoods in L.A. County.
The bank is also required to spend at least $500,000 for advertising and outreach in those neighborhoods and another $500,000 in those communities on a consumer financial education program. The bank also agreed to spend an additional $750,000 for development of community partnerships to provide services that increase access to residential mortgage credit.
"This settlement embodies Dr. Martin Luther King Jr.'s commitment to fighting economic injustice and ensuring that Black Americans and all communities of color are able to access the American dream and freely access the credit needed to purchase a home," Clarke added.