An Unapologetic Ben Carson Vows to Stay Politically Incorrect
Dr. Ben Carson says he won't allow liberals to silence him.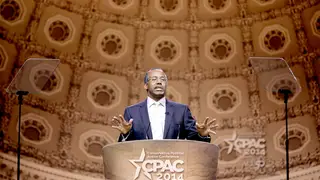 "I am not a fan of political correctness. I hate political correctness," he told his standing-room only audience waving "Carson 2016" banners. "I will continue to defy the PC police who have tried in many cases to shut me up."
As if to underscore this declaration, Carson, who once compared homosexuality to bestiality, reiterated his opposition to same-sex marriage.
He also denied having made the offensive comparison on Fox News last March, although he issued an apology and was asked to withdraw as a speaker at Johns Hopkins' medical school graduation because of the backlash his remarks elicited.
"Because I said nobody gets to change the definition of marriage and because I happened to mention some categories, they said, 'Carson said gay marriage and bestiality are the same thing," he said, adding that anyone "who believes that is a dummy."
"Of course gay people should have the same rights as everyone else, but they don't get extra rights," he said. "They don't get to redefine marriage."
"Of course they're not the same thing. Slavery was much worse. But bear in mind what happens with Obamacare," Carson said. "We, the American people, with that program have shifted the power that was given to us by the Constitution and the founders of the government. That's the most massive shift in power in America that has ever occurred."
BET Politics - Your source for the latest news, photos and videos illuminating key issues and personalities in African-American political life, plus commentary from some of our liveliest voices. Click here to subscribe to our newsletter. 
(Photo: T.J. Kirkpatrick/Getty Images)