50 Cent Not Impressed By Weird Murals Of Himself Depicted As A White Woman
The New York rap vet was reimagined into a number of prominent public figures.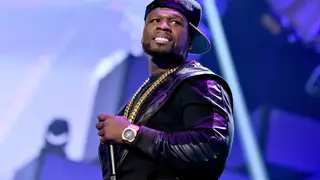 50 Cent has risen to hold the title as social media's indisputable "King of Trolling," but it seems his own antics have been turned against him. One street artist has been on a hot streak lately, and it's starting to get on the New York rapper's nerves.
A series of spray-painted murals are popping up depicting 50 as different prominent public figures. Street artist Lushsux is taking full responsibility and has been posting photos of his pieces online. The New York rap veteran has been reimagined into everyone from Post Malone to Donald Trump and Mao Zedang otherwise known as Chairman Mao, causing 50 to remain completely bothered and unimpressed. 

Continuing "50 week,"  the Australian graffiti artist unveiled a new work of art on Instagram on Thursday (April 30), and 50 Cent couldn't take it anymore. In the photo, the G-Unit honcho had been combined with pop darling Taylor Swift to become "Swifty Cent."

"Man, look at this s**t. TF wrong with this guy. He won't stop," the rapper wrote along an angry face emoji.

He also posted a clip of Lushsux creating the mural, threatening to retaliate if he didn't cease his productions. "Swifty Cent," he mused. "I'd like to hit this MF in the back of his head while he doing this s**t."

In their latest exchange, Lushsux painted a mural of the "In da Club" rapper rocking a brimless New York Yankees and his teeth are noticeably missing, with "Too many trips to the candy shop," scrawled in black beside the image. 

"This is some bulls**t, man," 50 Cent declared in response. "How the hell is he doing it so fast. Alright, he's talented but why the f**k he pick me?"

Unfortunately for 50 Cent, it seems Lushsux is considering extending "50 week" into "50 month." Lushsux has denied he's being paid for his kooky art. And yet, knowing how 50 works, the two could actually be working together to promote some new product or project.