Prayers Go Up For Buffalo Bills' Damar Hamlin Who Suffered A Cardiac Arrest During Game
'Praying hard.. please be okay man,' tweets Kansas City Chiefs quarterback Patrick Mahomes.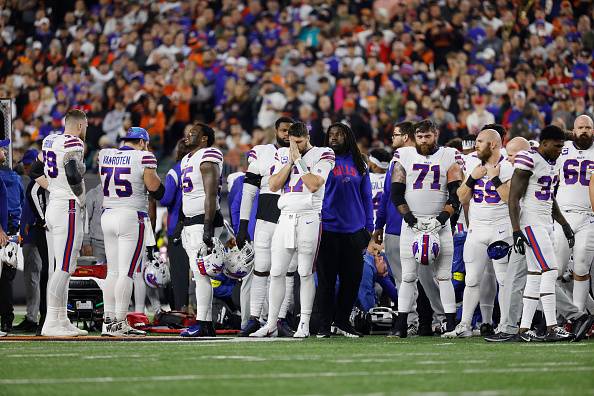 Buffalo Bills defensive back Damar Hamlin was in critical condition on Tuesday (Jan. 3) after suffering a cardiac arrest during the Monday Night Football game against the Cincinnati Bengals, a statement from the Bills said.
Hamlin collapsed on the field after making a tackle. Medical personnel restored his heartbeat on the field before Hamlin was transferred to the University of Cincinnati Medical Center for treatment.
Prayers went up for Hamlin from across the NFL and from the University of Pittsburgh where the four-year standout player wore number 3 on his jersey, as well as from professional athletes in other leagues.
Before starting a post-game press conference, a somber Klay Thompson of the NBA's Golden State Warriors said his team is "hoping for the best possible outcome" for Hamlin and his family. Many others from around the sports world joined him.