DJ Jazzy Jeff Speaks on Winning Hip Hop's First Grammy
Producer recalls "bittersweet" moment and boycotting the awards alongside Will Smith, Heavy D, Salt-n-Pepa and more.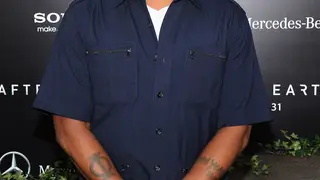 When DJ Jazzy Jeff and The Fresh Prince were first making hits, the Grammy Awards didn't include a nod to hip hop. That was until 1989, when the Philadelphia duo took the nation by storm with "Parents Just Don't Understand."
That year, Jeff and Will Smith, who eventually sold more than 5 million albums worldwide, won the first ever Grammy Award for the Best Rap Performance when the category was inducted into the catalogue of the 31st Grammy Awards ceremony, an accomplishment Jeff described as bittersweet.
"Winning a Grammy shows you are at the pinnacle of your career," he said on BET's The Message. "So to be nominated was a great experience, but to realize that they weren't going to show the category on television was a slap in the face."
At the time, less than three decades ago, while the awards committee didn't want to televise the category nomination for rap's first Grammy recipients, they did ask them to perform. "It was almost like, you kind of want us to be the token," Jeff said. "This is our contribution to hip hop on the Grammys, but it's not big enough for us to televise the category."
That "slap in the face" led the duo to boycott. "We didn't know what that was going to do for our career, but at that point, in that stage of hip hop, you had people saying that hip hop is only going to be around for a certain amount of time."
Their efforts to thwart naysayers led other big names in hip hop to follow suit. "There was Heavy D, Salt-n-Pepa, Kool Moe Dee; they all boycotted with us," Jazzy recalled. "It wasn't just us, it was everyone that was kind of involved."
In the end, Jeff and Smith didn't even know they had won a Grammy, they found out by way of a congratulatory phone call. The experience was symbolic for hip hop. 
"Getting the first Grammy was a signal that hip hop had arrived as a credible form of music," Jeff added.
Watch Jazzy Jeff talk more about that game changer moment in the clip from The Message below.
BET.com is your #1 source for Black celebrity news, photos, exclusive videos and all the latest in the world of hip hop and R&B music.
Click here to subscribe to our newsletter.
(Photo: Jamie McCarthy/Getty Images  for Mercedes-Benz)