Stop Downgrading J. Cole in the Name of Kendrick Lamar
Cole is my favorite rapper, and your K-Dot argument won't change that.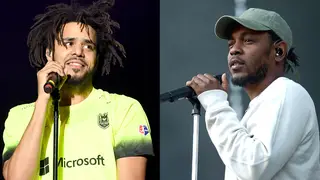 Pulling teeth doesn't even begin to describe how grueling it is to attempt a healthy hip-hop debate with the blissfully ignorant who have no reverence, let alone knowledge, of rap music, its roots or its multi-purposes.
But in 2017, you haven't felt nearly as bad of a toothache, headache, earache and every other ache imaginable until you're a 23-year-old hip-hop fan taking on the challenge of defending your favorite rap artist among the stubbornly opinionated, controversy-happy millennial generation. Enter: me.
It's no secret that rap is a dog-eat-dog, bars-eat-bars game, and there was a time where those only with the mightiest lyrical killer instincts could have survived. Match up one of this era's Grammy Award-winning hip-hop stars — let's just throw Macklemore out there for instance — against the legendary pen game of hip-hop kingship like the Notorious B.I.G. and you've got yourself a live rap annihilation, ladies and gentlemen. What hip-hop Album of the Year?
But when we remove the "vs." between even the most important rap rarities in their prime — this time take J. Cole and Kendrick Lamar — there's something seeded much deeper and far more powerful than shallow manhood-measuring rap arguments. Counting my would-be riches if I earned a penny for each time someone talked over my explanation for why Cole is my favorite hip-hop artist with a "but Kendrick Lamar…" interjection, I've learned to do away with anymore defense. Not because of a cop-out and not even because I'm tired of debating, but because there are songs, words and thoughts from the Dreamville pioneer's music that have kept bottles of pills from down my throat at 19 years old.
Cole's music has been my walking cane for life's darkest moments that only me and his lyrics may ever know about. And I'm positively certain that K-Dot's music has been that same light in his most devout fans' lives as well. How do we know that? Well, we don't — but Kendrick does after explaining to Zane Lowe why hip-hop just isn't something to be played with. There are still people on the streets of his Compton stomping grounds that eat, breathe and sleep rap music. They're still getting out of bed every day to live the life that their circumstances have told them they don't deserve.
Then, there's the lesser-known southern territory of Fayetteville, North Carolina, Cole's home turf, which harbors a population with the same sense of emptiness, hopelessness and hunger for a voice and quality of life. To know that the 4 Your Eyez Only rapper has intricately narrated their experiences for the world to hear and connect to, resonating with the Black man raised by the relentless streets all the way to the Black man raised in the quiet suburbs, is an art you must pay respect to.
With respect to raw, pure penmanship, K-Dot has the upper hand. He's the only artist that can hold esteem to former life of crime allowances and syrup sandwiches without pump fakery and empty glorification. Having your Compton-verified dignity stomped out in front of your mother is one thing, but threading it through a Billboard 100 chart-topper for even those disconnected from the world of hip-hop to witness is totally another. Cole's gifted forte for storytelling, on the other hand, gives him the leverage to organically narrate the taboo experiences most of his hip-hop peers wouldn't dare allow near a recording session.
I'm willing to bet that there's far more rappers than just Cole with the haunting fear of album flops, substance addiction, suicidal consciences and their significant others walking out on them for their obsession with the "baddest b*****s" of the game. But as the only one ballsy enough to speak it, Cole is more than deserving of his just due. And whether the rest of rap will accept this or not, it only further proves that rap is much more purposeful as a testimony than it is a competition. 
I love that Kendrick season is upon us in 2017. DAMN. deserves every bit of acclaim, raving, respect, attention and praise that those who are actually paying attention have to offer. But my "fave" isn't seasonal, he's a lifetime guarantee. The "best" rapper, according to everyone else, doesn't need to be my favorite rapper because that title doesn't give a damn about my experiences, obstacles and rainy days. Cole's lyrics, they do.
And I never needed to pit my favorite rapper against yours because the reason he's my "fave" is a personal matter, not a comparative one.