Exclusive: Kerry Washington Talks the End of 'Scandal' and 'Putting It All on the Table' for the Final Season
The star chats exclusively with BET.com.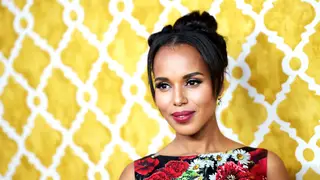 Kerry Washington is currently on the promo trail for her new animated film Cars 3. While discussing her role as Natalie Certain in the movie, the actress shared her thoughts on the news that Scandal is set to bow out after its next and final season.
Washington, who plays the lead role of Olivia Pope on the massively successful ABC drama, revealed that, like just about the entire Gladiator community, she's pretty bummed to learn that it's all ending. However, she explained that she trusts Shonda Rhimes's vision and timing.
"It's so bittersweet, I think," she told BET.com, exclusively. "I really trust Shonda Rhimes. I trust her in feeling this is the end of the season. Our writers are so brilliant and I really do trust them, but it's gonna be hard because we love our show. We love our cast and our crew and we've loved this journey, but we're also really proud of what we've created."
The Emmy Award nominee also touched on Scandal being the catalyst for change and diversity in primetime television.
"Since Scandal has aired, really the landscape of television has transformed in terms of inclusivity and we're proud of our storytelling," she continued. "We're proud of what we've created. I think we're going to put it all on the table and make sure this last season is one of our best, so I'm excited and sad."
On a lighter note, you'll also learn who the actress named as her ride or die in Hollywood in the video, above.