Future On Gucci Protest Controversy: 'I'm Still Gonna Wear It Because That's My Money'
"I don't feel like they did it out of ill intentions..."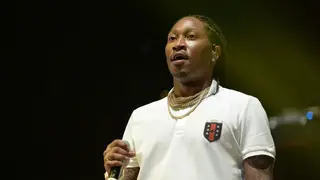 Atlanta trap star Future isn't ready to retire the Gucci pieces of his designer wardrobe just yet following the high-end fashion brand's "blackface sweater" controversy. Unless, that is, someone is ready to run him back the money he's already spent on his Gucci apparel prior to the scandal.
In a new interview with Atlanta's Streetz 94.5 radio crew, Future explained his logic behind the industry-wide call for a Gucci cancellation. Not only is he concerned with the cash he's shelled out for his Gucci gear, he also believes the outrage could be misguided.
'Man, I bought Gucci before it got canceled so I'm still gon' wear it because that's my money,' he said…

"If you wanna give my money back then we can talk, because I'm a businessman." In other words, unless the same folks telling him not to wear it are willing to put their money where their mouths are, Fewtch won't be joining the anti-Gucci protest. Not to mention, he doesn't believe there were malicious motives beneath the design either. "Because I don't feel like they did it out of ill intentions, but it ain't for me to judge, you know what I'm saying?" he continued.

He believes the public jumped the gun with their protests against the company…

Especially considering that no one has gotten in contact with the designer, who he said could be Black—or have a Black parent. Thus, he believes most of the backlash stems from a pack mentality source of hostility, not the actual controversy itself. "Like, they don't even understand," he said. "They're just going off what somebody says in a comment. I can't go off a comment. I just don't know how to do that. That would be ignorant of me."