Welp, Looks Like Reginae Carter Plans To Spend Her Entire Holiday Break Clapping Back At Khia
The music scion delivers another blow to her rapper nemesis.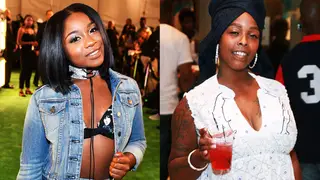 If you thought the drama between Reginae Carter — and her mother, Toya — and Khia was over, think again, as the 19-year-old is now refusing to let it go, clapping back at the femcee once again in an Insta Story post.

Get news on Reginae's mother with BET Breaks, above.
This feud first started when Khia and TS Madison read Toya for filth on their webseries, The Queen's Court, claiming she was refusing to both give up her ex MempHitz's last name and the identity of her unborn child's father.
After that, both Khia and the mother-daughter duo exchanged insults, with Khia adding a bit more text to her read by including some alleged details about Trina.
"That's how far me and your daddy [Lil' Wayne] go back," Khia said. "When ya step mama Sourp** was f*****g Baby. No she's not the baddest because she f***d your mama and your daddy. That don't make her the baddest, baby. Now since your mama didn't tell you that she was swinging with your daddy and your step daddy Baby, don't bring that up anymore."
Watch for yourself, below:

This seemed to be enough to tick Reginae off as she made yet another post about the "My Neck, My Back" rapper. See what she had to say, below:

Hopefully this is the last of that, but we're not holding our breath.