Megan Thee Stallion Explains What Happened During Justin Timberlake Encounter At MTV VMAs
It's much simpler than it's being played out to be.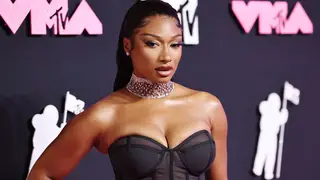 The encounter was live; however, many believed it was an adversarial one rather than a pleasant meeting between two music greats. The Houston rapper says that couldn't be further from the truth, and actually, online speculation is why she says she deleted all of her social media apps.
"I freaking love Justin," Megan said during an interview with PEOPLE. "First of all, I do not have any apps on my phone social media-wise except for TikTok. But when somebody asked me, 'Were you fighting with Justin Timberlake?' I said, 'Why would you say that? In what world would Megan Thee Stallion be fighting with Justin Timberlake? What are you talking about?'
"I just talk with my hands. So I was telling him, 'No, I didn't really get to meet you. This does not count,'" she continued explaining, which BET had reported extemporaneously. "I had my in ears in. I couldn't hear what he was really saying, but we talked after and I was like, 'Oh man, they think I'm back here tussling with Justin Timberlake.'"
Megan says it was "such a cute moment" in reflection, where she felt "happy."
"That is so foolish," she added of speculation to the contrary. "I'm like, 'Dude, we're just back here trying to bring sexy back. Y'all think we fighting and s**t?'"
Megan Thee Stallion shared a TikTok post of her and Justin Timberlake, which she also posted on her Instagram page. Check it out below.